You could cut the tension with the knife Ben Carson tried to stab a guy with.
"Bill, they say at a dinner party you should never talk about sex, politics or religion. Have you ever been invited to a dinner party in your life?" said Stephen Colbert, setting the tone for an awkward interview with "Real Time" host Bill Maher.
Maher is an outspoken atheist who was raised Catholic and Colbert is a practicing sucks at being a Catholic (his words), so the latter used the interview as an opportunity to invite Maher back to the church. It didn't go too well.
After Colbert urged Maher to accept that there are things greater than him in the universe, the "Real Time" host responded by saying, "I do admit there are things in the universe I don't understand, but my response to that is not to make up silly stories."
Though the pair had a good time ripping on Republican presidential candidate Ben Carson, things got testy again when talking about Donald Trump.
Maher thinks people are getting over Trump's "schtick," but Colbert contended, "I hate to tell you, Bill, but the latest Ipsos Reuters poll has him at 42 percent among likely Republican voters, baby doll."
"Maybe, but we got another year to go, sweetheart," said Maher.
Editor's Note: Though baby doll and sweetheart are often used as terms of endearment, these were not said at all with love or affection.
"The Late Show with Stephen Colbert" airs weeknights at 11:35 p.m. ET on CBS.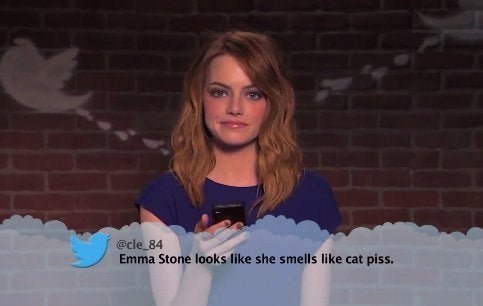 Celebs Read Mean Tweets
Popular in the Community