Stephen Colbert wants to talk to you about your boyfriend.
When Colbert sat down for Rookie's "Ask A Grown Man" segment, he did so as himself, instead of the brash character he plays on his show. In real life, Colbert's a dad, and he takes that job pretty seriously. (He owns a "world's best dad" mug, after all. "You can't just buy those," he told once told BuzzFeed.) So when he delivers his frank, honest answers to teen viewers' questions, it's obvious his words come from the heart.
And he nails it, as only Colbert can.
Related
Before You Go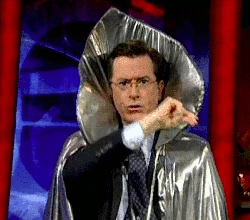 Stephen Colbert GIFs
Popular in the Community