With recent studies finding processed meats like bacon may be a cause of cancer, some people (ahem, vegetarians) have started using the hashtag #SmugVegetarian to call out their meat-eating brethren. Well, Colbert, who proudly claims to have a two-pound slab of bacon in his fridge at all times, isn't having it.
The "Late Show" host called out #SmugVegetarians, saying the hashtag is redundant and adding that refraining from eating things like shrimp doesn't make sense because corn has more coherent thoughts than shrimp do.
"Have you ever had a conversation with a shrimp? It's almost as boring as talking to a vegetarian," joked Colbert.
And, just to make sure veggie eaters got the message, Colbert pointed out how studies found that 10 percent of vegetarian hot dogs contain meat and two-thirds contain human DNA. So chew on that, vegetarians! Or, actually don't. That sounds gross.
"The Late Show with Stephen Colbert" airs weeknights at 11:35 p.m. ET on CBS.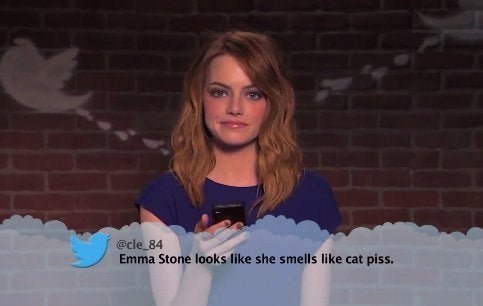 Celebs Read Mean Tweets
Related
Popular in the Community