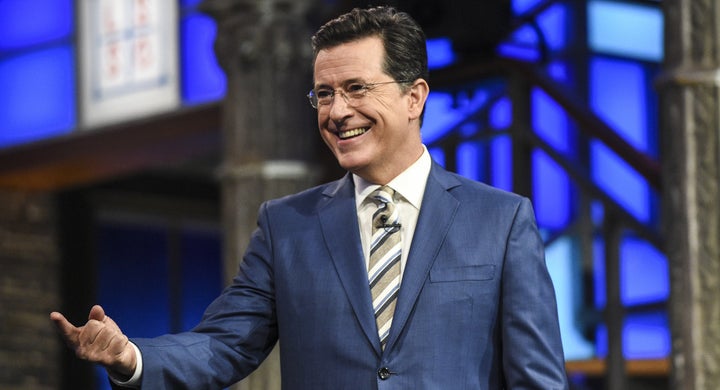 "The Late Show" host Stephen Colbert will broadcast his program live during the Republican and Democratic conventions later this month.
Like most late-night hosts, Colbert usually tapes his show several hours before it airs. But that format can be limiting during big news events, he told Politico in an interview published Thursday.
"What we enjoy most is being topical at the top of the show," he said. "Our favorite thing is something happens at 5 o'clock on the day of a show and we can do it on the show at 5:30, which is when we tape. ... And I don't really want to lose that opportunity just because the event that everybody is going to be talking about happened at 10 o'clock that night." 
Colbert's schedule change gives viewers yet another alternative to cable news for some of the latest stories from the conventions.
Convention speeches can run as late as 11 p.m. ET, meaning Colbert's team may have to make some very quick turnarounds ("The Late Show" airs on CBS at 11:35 p.m.).
He and his team "will bounce room to room ... and turn [news from the convention] into the monologue as quickly as we can," he said. 
Colbert plans to be on the ground for some time during each convention, but will return to New York City each night to record the show.
The Republican National Convention will be held in Cleveland from July 18 through July 21, while the Democratic National Convention is in Philadelphia from July 25 through July 28.
Colbert is tapping a wide variety of guests to join him on his show. During the Republican convention, his guests are set to include Sen. Elizabeth Warren (D-Mass.), "Scandal" star Tony Goldwyn and comedian Keegan-Michael Key. 
During the Democratic convention, he'll be joined by "Last Week Tonight" host John Oliver, former Rep. Anthony Weiner (D-N.Y.) and historian Doris Kearns Goodwin.
According to Colbert, covering a convention is essentially "reporting on someone's sales meeting."
"The convention has its own agenda," he told Politico. "... And taking someone's PR and sales at their face value is also a lot of fun."
BEFORE YOU GO
PHOTO GALLERY
Republicans Who Have Refused To Back Donald Trump