Stephen Colbert was in for a surprise at his Tuesday night showing of "The Colbert Report." The Comedy Central host had booked reclusive band Daft Punk to perform the duo's hit single "Get Lucky" during the show, hyping the performance as part of his StePhest Colbchella 2013.
One day before the show was set to tape, however, Guy-Manuel de Homem-Christo and Thomas Bangalter of Daft Punk reportedly canceled their appearance. Colbert introduced the show, one that was "featuring the artist formally booked as Daft Punk."
"Now, they're not here tonight and I have accepted a lot of money from our Colbchella sponsor, Hyundai," Colbert explained. "So, not delivering the song of the summer is a real kick in my balls, brought to you by Hyundai. Now folks, this could not be a bigger disaster, I gotta say, if someone had planned it."
Colbert went on to claim he had been "Daft Punk'd," looking in the crowd for Ashton Kutcher to do his famed "Punk'd" reveal. Kutcher delivered, coming to the stage in a suit and a trucker hat from his "Punk'd" days. Colbert asked Kutcher if Daft Punk's cancelation did in fact mean he was getting "Punk'd," to which Kutcher responded, "No, you got f--k'd."
Colbert told the audience that Daft Punk's cancelation was due to a surprise performance the group has planned for MTV's Video Music Awards, which was promised as an exclusive to the network. "We booked click and clack over here about a month ago but there was a problem," Colbert said. "See, this network is owned by Viacom, which is also the owner of MTV. Well apparently, and this is a deeply guarded secret, so shhh... Daft Punk are going to make a surprise appearance on the MTV Video Music Awards -- spoiler alert. Don't tell anybody, cause fun fact: no one told me until 2:00 yesterday."
"I don't care what MTV allows. My audience gets the song of the summer if they want it and I don't even need Daft Punk to choose my show over the VMAs to get it. This is Colbchella, goddamnit, and it is time to dance."
With or without Daft Punk, Colbert still got lucky. He broke it down to Daft Punk's hit, lip syncing along to the track and dancing with the audience. He was soon joined by some famous faces including Hugh Laurie, Jeff Bridges, the Rockettes, Jimmy Fallon, the casts of "Breaking Bad" and "America's Got Talent," and Matt Damon.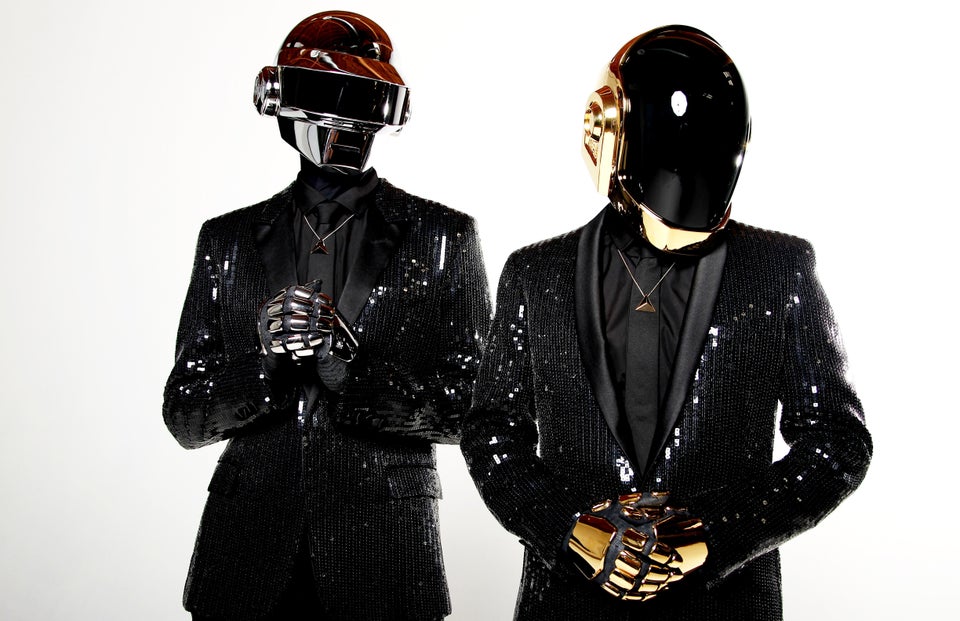 Daft Punk Frenzy
Popular in the Community