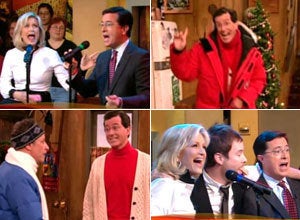 Stephen Colbert stopped by "Good Morning America" Monday to start promoting his Christmas special, "A Colbert Christmas: The Greatest Gift of All." The special airs this Sunday November 23 on Comedy Central and is available on DVD the 25th.
On GMA, Diane Sawyer played clips of the special, including one clip with Jon Stewart singing. The video also features a yule log of burning books and some festive Colbert dance moves.
In a second segment, which starts 2 minutes into the below clip, Colbert and Sawyer sing "Deck the Halls" together, forgetting words, and fellow show guest David Cook jumps in.
<0--2457634001--hh>0--2457634001--hh>