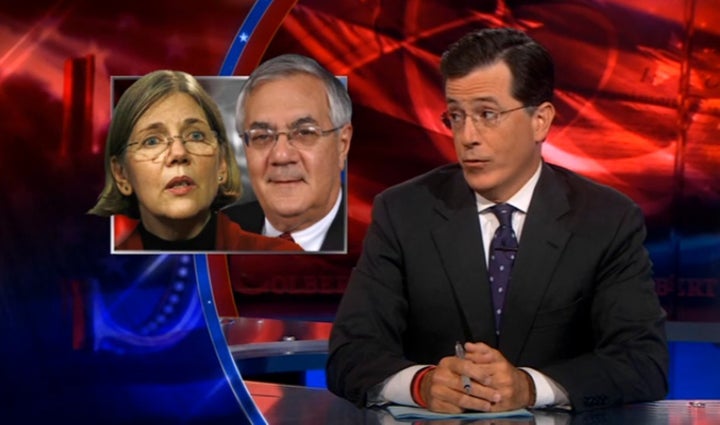 On a recent episode of the Colbert Report, Stephen Colbert spoke to Barney Frank, Chairman of the House Financial Services Committee, about the possibility of Elizabeth Warren becoming America's first Consumer Protection Czar. Frank is pushing hard for Warren to get the job, which, Colbert joked, has the kind of "unchecked power that must be reserved for Oprah."
Colbert took note of Frank's attachment to Warren, joking the two should get "a subcommittee hearing room already."
Here's how the exchange between Colbert and Rep. Frank went down:
Colbert: Sir, why do you liberals love Elizabeth Warren so much? Besides the fact that she's a damn fine looking woman. You'd agree with me there wouldn't you?

Frank: Well, yes, but you do realize that that would not be my motivation. The fact is, she's important because she would be a great administrator of that agency which she helped create. She is an extraordinarily zealous pragmatist. She has a dedication to a set of issues and a great way of accomplishing them -- and I think we need more examples of that.

Colbert: Well, then why has the White House so far not heeded your call? I mean why would Senator Dodd say that she may not be confirmable?

Frank: The argument that you could easily be confirmed in the Senate--I don't think that's an argument in favor of you.
Calling all HuffPost superfans!
Sign up for membership to become a founding member and help shape HuffPost's next chapter