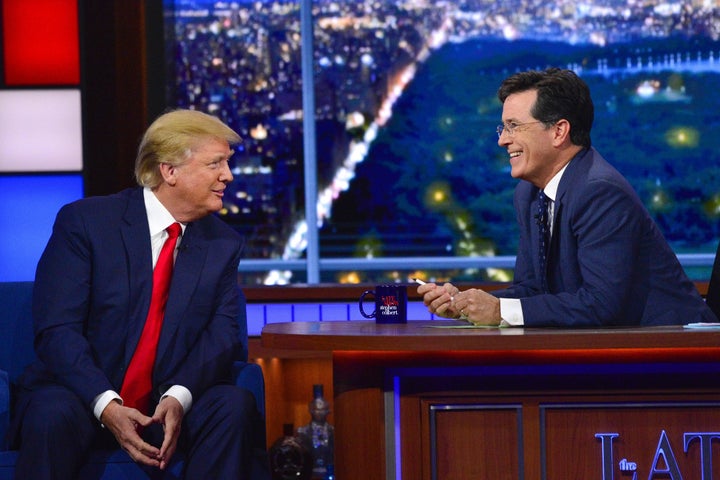 The last time Stephen Colbert invited Donald Trump to appear on "The Late Show" in late 2015, he was accused of going soft on the presidential nominee. Not Jimmy Fallon–soft, but Colbert, like far too many talk show hosts this political season, went for the laughs instead of holding Trump accountable for his actions.
Talking with SiriusXM host Bill Carter on Friday, Colbert revealed that if the opportunity presented itself again, he would take a much different approach, but there's one thing standing in the way of a second interview: Trump.
"I don't regret the attempt, I regret that that's probably the only bite I'm going to get at that apple," he told Carter. "I would have him on tomorrow, but he's a coward ... It's clear that Donald Trump is a coward, because he won't come back on the show."
When Carter jokingly cautioned him about the potential blowback from making Trump's refusal to appear on the "Late Show" public, i.e., a signature Trump tweet meltdown, an unconcerned Colbert broke it down for the radio host.
"He's a chicken. To put it in his own terms — let me translate it into his own language [chicken clucking noise]," Colbert added.
"What would I give [for a tweet]. What an honor to have him talk about my sex tape," he continued, of course, referencing Trump's latest and most repulsive attack on former Miss Universe Alicia Machado. "That would be so exciting. Can we get on that?"
When asked about the overwhelmingly negative reception to late-night rival Jimmy Fallon's interview, Colbert stood by the comedian, explaining that he didn't "understand the furor."
Hmm. Maybe it was Fallon making Trump seem like that kindly and slightly racist relative you avoid at Thanksgiving, instead of the potential future leader of our country.
"I think the host has this obligation — to be honest with their audience," Colbert explained. "And you have to go with your honest instincts. My honest instinct is to ask at least one question of some kind of substance with your guest. Even if the person is there only to push something that is not substantive."
He added, "For me, I have to do that with every person who represents a political idea. But that's not every host's responsibility. Every host's responsibility is to be honest with themselves and with their audience about the kind of show that they do. So I fault no host who acts consistently and honestly."
Watch a clip from Colbert's 2015 interview with Trump below:
Support HuffPost
The Stakes Have Never Been Higher
Before You Go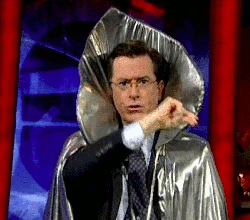 Stephen Colbert GIFs
Popular in the Community