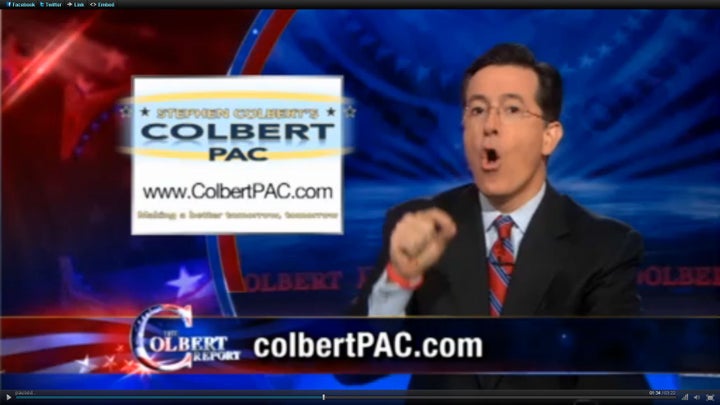 UPDATE: Hundreds of fans showed up to cheer Colbert at the FEC. See story here.
WASHINGTON -- As part of his continuing crusade to expose the lunacy of the nation's campaign finance regulations, Comedy Central satirist Stephen Colbert is rallying supporters at the Federal Election Commission Friday afternoon.
Political action committees have long had an outsized role in the electoral process, but recent Supreme Court decisions have ushered in a whole new era, in which groups known as "SuperPACs" can accept unlimited corporate contributions.
Colbert this afternoon is filing yet another piece of paperwork required to get his SuperPAC off the ground, although ironically it's not the FEC that has been pushing back: It's Comedy Central's parent company, Viacom that's trying to shut him down.
Colbert was initially going to form a regular political action committee -- until Viacom told him to cease and desist, on the grounds that the FEC would consider Colbert's use of Viacom resources as an illegal in-kind contribution.
Colbert then consulted -- on air -- with Trevor Potter, a lawyer and former FEC chairman who now runs the pro-reform Campaign Finance Center. Potter explained that, if Colbert formed a SuperPAC instead, Viacom could legally make unlimited in-kind contributions. Colbert proceeded to file the appropriate paperwork.
Potter, again on the show, explained why: "They are nervous that Viacom is going to end up making an illegal corporate contribution to your PAC," he said. The issue is that "there might be a complaint or an investigation about whether they showed enough and they would have to turn over their internal bookkeeping and potentially reveal Viacom secrets," Potter said.
"How do the guys on Fox get away with it?" Colbert responded.
Potter explained that they get an exemption because they're a media organization: "The media exemption says that if you're a broadcast station, not owned by a candidate or a party" –- "I'm not!" Colbert interjected –- "and you're reporting the news in your normal way of going about business, then you're exempt. You're not making a corporate contribution when you talk about candidates and politics."
So Colbert on Friday is filing a request for an advisory opinion from the FEC, hoping it will grant him a media exemption.
The FEC press office said they've been told to expect Colbert around 3:30.
"He's just going to walk into the lobby like anybody else," said spokeswoman Mary Brandenberger.
Watch Colbert and Potter talking about the media exemption issue:
Popular in the Community