Attempting to get ahead in the thick of November sweeps, Stephen Colbert is pulling out all the stops.
In an effort to boost ratings this month, the Comedy Central host showcased "lesbian puppies" Monday night.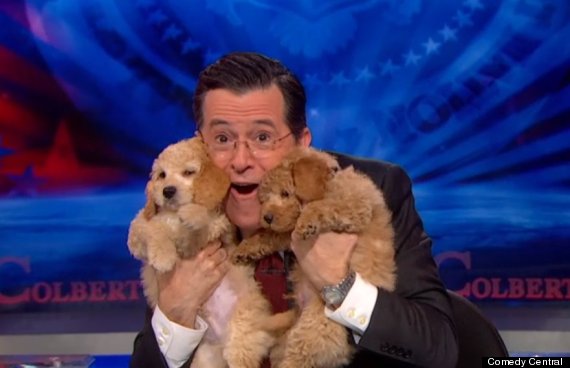 But sadly, even these puppies can't beat ABC News' attempt to gain viewers, Colbert conceded.
"When it comes to blowing it out for ratings, no one blows harder than 'Good Morning America,'" he said.
Colbert went on to mock "survival week" on "GMA," for which the morning show provides to viewers in life-threatening situations (e.g. "The Best Way to Survive a Bear Encounter," "Tips to Survive a Shark Attack"). Colbert suggested that survival week is just a "cheap publicity stunt" to win sweeps (unlike the puppies).
"That is news you can use," he said. "Now I know exactly what to do if the plane I'm on crashes into shark-infested waters, and the pilot is a grizz."
If for no other reason, just watch the clip for the incredibly adorable lesbian puppies.
REAL LIFE. REAL NEWS. REAL VOICES.
Help us tell more of the stories that matter from voices that too often remain unheard.