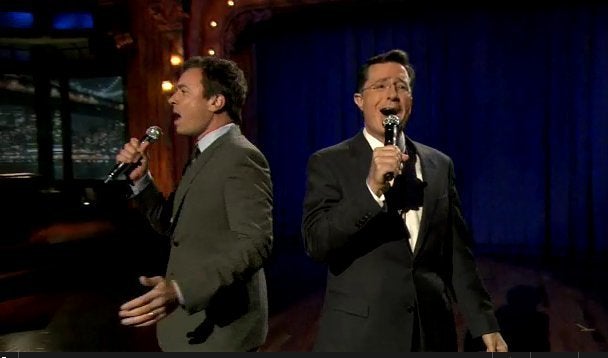 When we talk to our grandchildren about the the time between March 3, 2011 and September 3, 2011, only one event will define the period: The brief but passionate best friendship of Jimmy Fallon and Stephen Colbert. Even our own Arianna Huffington had a significant stake in seeing that Stephen and Jimmy's relationship could go the distance. And if nothing else, their fraternal bond produced this glorious moment of television that will live in our hearts forever.
But all good things must come to an end, and so it was with Colbert and Fallon's status as BFFFSM (Best Friends Forever For Six Months), which expired last week. On Thursday night's "Colbert Report," the rival talk show hosts realized that they could no longer express their devotion to each other as best friends, noting the cruel irony of their relationship ending at the same time that they're competing against each other for the Emmy.
The loss has clearly hit them both hard. On Friday night's "Late Night with Jimmy Fallon," they could barely hide their longing. After some introspection, the show took a turn for the Feival, and Fallon and Colbert dueted on "Somewhere Out There" for a Rondstadt-flavored ode to their lost love.
Is their relationship really over? How can they move on? Who will win the Emmy? And will Anderson Cooper actually befriend either of them? These are questions, y'all.
Related
Popular in the Community