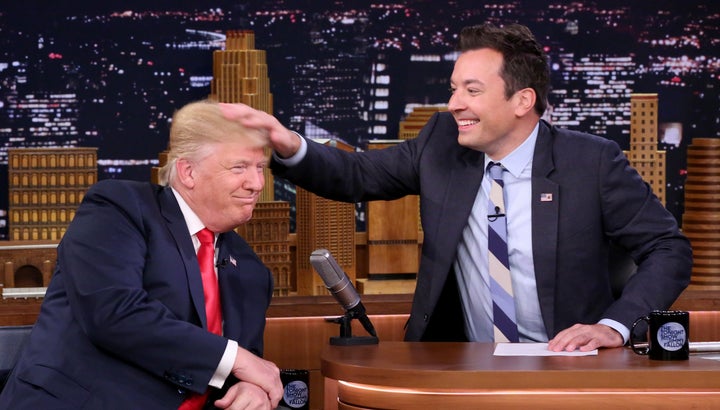 The decision to have Trump on at all proved controversial at the time, as some thought Fallon should have gone the way of Seth Meyers, who months earlier had banned Trump from his late-night show for as long as Trump banned The Washington Post from his rallies.
But the interview itself led to another level of anger for liberals around the country. Rather than confront Trump about his decision to build a campaign on xenophobic promises, Fallon went the other way, tossing him softball questions about coins and laughing uproariously at Trump's joke about hamburgers. He even ruffled Trump's hair.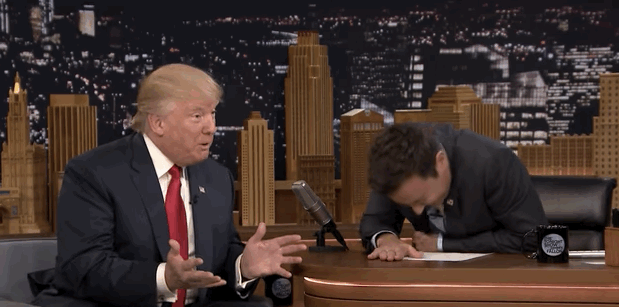 Fallon's interview, in many people's eyes, was not just embarrassing, but dangerous, normalizing the views of a seemingly unstable man who was threatening the central tenets of the country, all in exchange for a few cheap laughs and maybe a slight ratings bump.
The week of the interview, Fallon was still the undisputed king of late night. His shows over those five days averaged 3.2 million viewers, more than 1 million more than "The Late Show with Stephen Colbert," which averaged 2.16 million, and "Jimmy Kimmel Live!" which averaged 1.92 million.
At the time, those sorts of numbers were typical for the late-night triad, especially for Colbert, who was still struggling to gain traction a year after his late-night show first premiered.
In the five months between then and now, a lot has changed. Donald Trump has become president of the United States, and the world of late night has been turned upside down. The so-called "Trump bump" has benefitted media of all sorts ― CNN, "Saturday Night Live" and The New York Times have all seen bumps attributable to interest in the president ― but it has proved most pivotal in the historically competitive late-night tussle.
Colbert didn't air original episodes in the week after Trump's inauguration last month. But every week since then, he has surpassed Fallon in total viewership. The first week, Colbert's margin of victory was infinitesimal. But the week after that, his shows averaged about more than 100,000 more viewers than Fallon's. Last week, his lead grew once more.
Nielsen reported this week that the average episode of "The Late Show with Stephen Colbert" pulled in 3 million viewers over the week of Feb. 13 to 17, while "The Tonight Show Starring Jimmy Fallon" pulled in 2.71 million.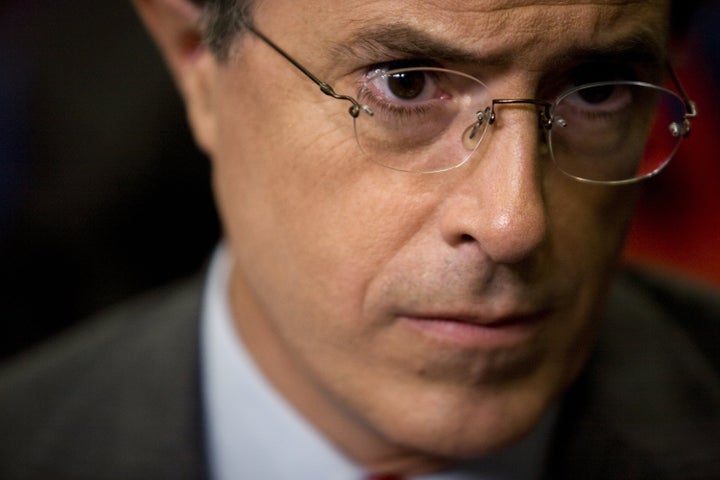 There are likely factors outside of political considerations at play in Colbert's rise and Fallon's relative decline. But it is also hard to ignore that Fallon has lost an average of 500,000 viewers a night between the week of Fallon's interview with Trump and this last one, just as it is hard to ignore that Colbert has gained 850,000.
Over that time, Colbert has found his identity, appropriately enough, as something comparable to what his friend and former colleague Jon Stewart did during George W. Bush's presidency ― providing a moral counterweight to a U.S. president. It is what many people need in uncertain times like these: someone to help them digest the chaos around them before they go to bed.
Meanwhile, Jimmy Fallon just keeps on laughing.
CORRECTION: A previous version of this article incorrectly said Colbert had been hosting "The Late Show" for two years as of last September. He had been hosting it for one year at that time.
Before You Go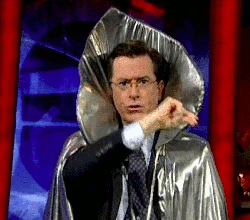 Stephen Colbert GIFs
Popular in the Community