The "Late Show" made a bold move on Monday night when #BlackLivesMatter activist DeRay McKesson, named one of Fortune magazine's "The World's 50 Greatest Leaders" of 2015, came on as a guest to discuss his new anti-police violence initiative Campaign Zero, the mission of #BlackLivesMatter and why sentiments like "All Lives Matter" are disruptive to the movement.
"You know, it's such a distraction," McKesson said. "If 'All Lives Matter' was true, then we wouldn't have to be out in the street. The police have killed 26 people just in 2016. We have so much work to do."
Watching a key black activist on a popular late night talk show speaking candidly about police brutality, the legacy of Dr. Martin Luther King and the Democratic debate was amazing enough. And things got even more interesting when Colbert asked McKesson to help him understand his white privilege.
"I might be the whitest person you ever met," Colbert said. "So I might have the most privilege of any white person you've ever met. How do I identify that in my own life?"
"What you can do is extend that role so you can dismantle it," McKesson suggested. "You can create opportunity for people. You can amplify issues in ways that other people can't, and you can use resources to create space for people."
In response, Colbert switched seats with McKesson, encouraging him to "ask me about being white."
"I'd love to know what you plan to do now that you understand your whiteness a little better, to dismantle it?" Brilliant.
The 8-minute interview, which you can watch in full above, proved that it is possible to have frank and even funny conversations about race and white privilege in the mainstream.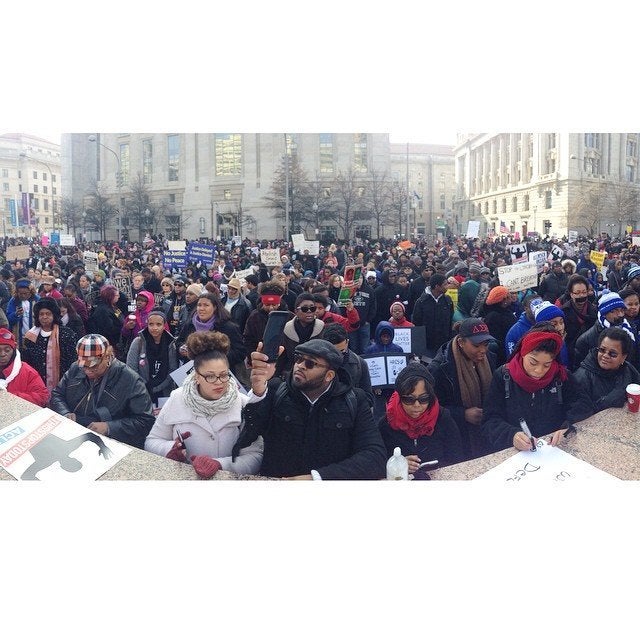 Powerful Black Lives Matter March In Washington
Popular in the Community