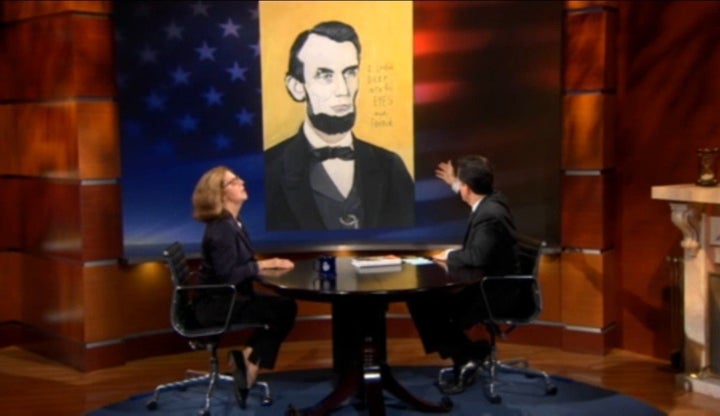 Stephen Colbert told author and illustrator Maira Kalman last night on his show, "I love this book because unlike a lot of the authors I have on the show, who just jam their book full of words like it's a contest or something, you have so many beautiful illustrations in here!"
Kalman's new book, "And The Pursuit Of Happiness," a spin-off from her illustrated Opinion column in The New York Times, chronicles her yearlong journey across the U.S. to document "this most amazing time -- this time of hope and energy and optimism and the country being sexy," the author said.
"Does the country still seem sexy to you," Colbert asked.
"I'm looking for it," Kalman said. "I think that that's the point of my book: That it's crazy to think [President Obama] should have done something extraordinary in one minute."
Researching the book brought Kalman to unusual and important places, from Thomas Jefferson's bedroom to Fort Campbell Kentucky.
"Obviously, an artist from New York is not going to usually hang out in an army base in Kentucky," Kalman said. "So one of the things I asked The New York Times is to send me to places that I normally wouldn't get a chance to go to like the Pentagon and the Supreme Court."
"Why did you do this book this way?" Colbert asked. "It is the loosest sort of American history -- it's almost like America not by fact, but by feeling."
"I think that's why The New York Times asked me to do this," Kalman began, only to be interrupted by Colbert, who said: "Because they're not interested in fact either?!"
"Clearly," Kalman joked. "The notion is that there's a person -- an artist and a writer -- who is an innocent, in a way, and has an optimistic point-of-view of the country and I don't have an agenda and I don't know what I'm going to do or going to say."
WATCH:
Popular in the Community