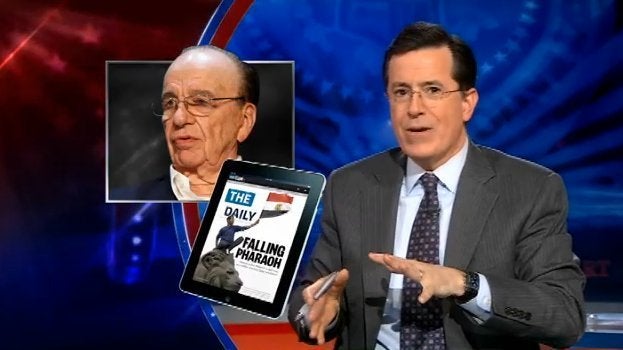 On his Wednesday show, Stephen Colbert took a look at The Daily, Rupert Murdoch's new iPad-only newspaper. Colbert pronounced himself impressed by the product. It offered, he said, "all the convenience of using your iPad to read the news online, but without the Internet's annoying habit of being completely free."
Colbert also noted that The Daily is "being praised by everybody in the media that is owned by Rupert Murdoch." He then played clip after clip of Fox News and Fox Business Network anchors extolling The Daily's game-changing brilliance.
Colbert also mocked a widely-circulated memo from The Daily's editor, Jesse Angelo, urging his staff to go across the U.S. and look for things like "the oldest dog in America" and "the richest man in South Dakota." Any enterprising reporter, Colbert noted, would try to find the "richest dog in South Dakota."
Still, we must admit that we're disappointed by one thing: why didn't Colbert take a page out of his own book and launch "The Colbaily"? It would add to the media empire he started with The Colbuffington Re-Post, after all.
WATCH:
Calling all HuffPost superfans!
Sign up for membership to become a founding member and help shape HuffPost's next chapter