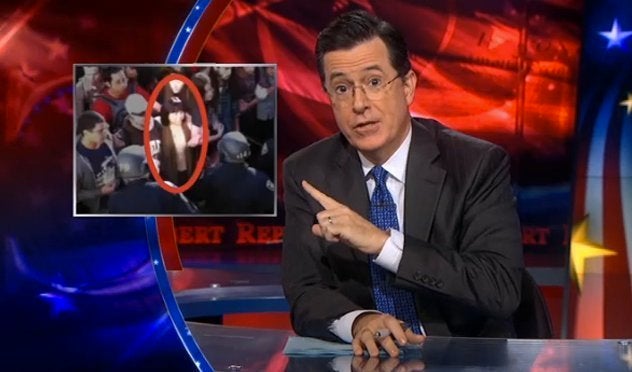 America's favorite satirical funnyman commented on U.C. Berkeley police's use of force to subdue a gathering of protesters during last Thursday's episode of "The Colbert Report," noting that "occupy has finally spread to the hippie haven."
Playing the now-widely-watched footage that shows campus police using batons to beat back a line of demonstrating students, Colbert declared that "Berkeley university officials did the right thing. They told the students to leave, and for some reason, these free-thinking Berkeley students did not obey authority. So the university called in a team of skilled crisis managers to diffuse the situation with a rap session."
"I've had some harsh words for this slow food, locavore, patchouli, super-fun granola dump site, but today, I am changing my tune," he added.
Continuing a long-standing tradition of protesting, hundreds of U.C. Berkeley students and faculty converged on the campus' Sproul Hall last Wednesday as part of the statewide "Occupy Cal" movement to rally against rising tuition fees and cuts to the state's higher education programs. The ensuing video of police officers forcefully clashing with demonstrators sparked nationwide outrage.
"You know, when they say Berkeley is crunchy, I didn't realize they meant the students' rib cages," Colbert quipped. "And spearing a small asian girl in the spleen first shows Berkeley's admirable commitment to diversity."
Take a look at the segment in full below.
Popular in the Community