Stephen Colbert opened Wednesday's "Colbert Report" with a declaration of something that disturbed him even more than what appears to be the imminent embrace of gay marriage by the Supreme Court: Bill O'Reilly's flip-flop on the issue, which he announced on his show Tuesday.
"I am shaken to the core," the faux conservative pundit said. "Last night, even Papa Bear let me down."
Colbert, who modeled his blustery "Colbert Report" character on O'Reilly, blasted the Fox News host for changing his mind about something he formerly denounced. "On gay marriage, Bill O'Reilly has flip-flopped. The gayest of all footwear."
But he was particularly offended that O'Reilly took a noncommittal stance about gay marriage, saying on "The O'Reilly Factor" that he does not "feel that strongly about it one way or the other."
This left Colbert aghast. "Bill O'Reilly doesn't feel that strongly about something? What's happening?! You're Bill O'Reilly! Read your f*cking contract!"
He rolled several clips of O'Reilly proclaiming his distaste for gay marriage over the years, including clips where O'Reilly compared gay marriage to "plural marriage" and the right to get married to ducks and goats.
But if O'Reilly is a man of consistent philosophy, Colbert's logic dictates, then his comparison of gay marriage to marrying a goat must have been a tacit endorsement of goat marriage, given his current feelings on gay marriage. And far be it from Stephen to get in the way of O'Reilly marrying a goat.
"This is about a man and a goat who want to share all the joys and sorrows of life together. And if they choose to make it a lifelong commitment together, they should honor it."
Check out the clip above to see Stephen Colbert try to wrap his head around O'Reilly's flip-flop.
Related
Before You Go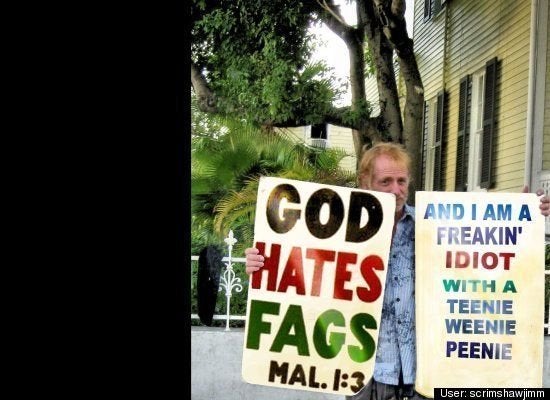 Anti-Gay Protesters Getting Owned
Popular in the Community