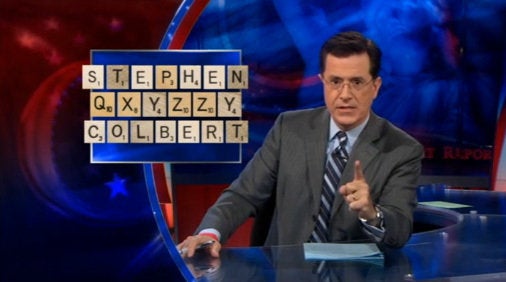 There's been a lot of controversy on the Internet recently over the word game Scrabble, which the BBC claimed yesterday would be changing its rules to include proper nouns. Though it has now been announced that there would be no official rule change, and that the news referred to a new spin-off of the game called "Scrabble Trickster" in the UK, Stephen Colbert took on toy company Mattel last night for the supposed rule change.
"It's just like the Scrabble you grew up with, minus what made it Scrabble!" Colbert declared. He called the objections on Twitter "elitist ravings," applauding Mattel for opening the game up to "a new generation of quasi-literate US Weekly readers."
The best thing about the rule change, Colbert said, was that his name could now be used in Scrabble, though it would only add up to 23 points. "Which is why," he said, "tonight I'm announcing my new middle name: Qxyzzy!"
Support HuffPost
The Stakes Have Never Been Higher
Related
Popular in the Community