The interview was reportedly interrupted by a heckler who said Uber was ruining the taxi industry, according to the Verge. That exchange was not shown in the segment that aired, but Colbert did ask Kalanick about claims that his company is destroying professional livery jobs.
"Taxi driver spends $40,000 a year renting a car," Kalanick said, referring to the taxi system in New York City. "That should be a Bentley that you're riding around in, but instead it goes to a taxi owner who owns the license to own and operate that cab."
Kalanick said Uber drivers can set their own hours, use their own car instead of renting one and make more money.
Colbert later challenged Kalanick on that point, noting that Uber is experimenting with driverless cars.
"You talk about how good this is for drivers. But you said you want self-driving Uber cars," Colbert said. "That's not for the driver -- you're employing robots at that point."
"Do you want to be part of the future or do you want to resist the future?" Kalanick responded. "In many ways we want to not be like the taxi industry before us."
"Is that how we should be treating each other?" Colbert asked.
Kalanick also spoke about UberEats, the company's new food delivery service, as well as one of the things he does for fun: He drives for Uber himself.
Check it out in the clip above.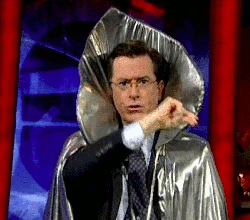 Stephen Colbert GIFs
Popular in the Community