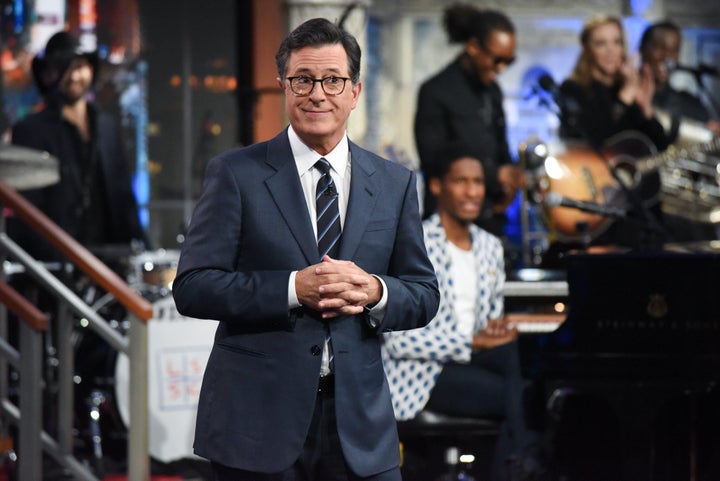 Last week, Stephen Colbert hosted a series of Russia-themed "Late Show" episodes, drawing in nearly 2.9 million viewers, according The Hollywood Reporter. That number doesn't include DVR-viewing.
These episodes, airing from July 17 to July 21, earned the "widest margin of victory over NBC's "The Tonight Show" since Colbert's CBS premiere week nearly two years." Specifically, Colbert's "Russia Week" beat Jimmy Fallon's "Tonight Show" by 450,000 viewers.
The 2.9 million number was also a 14 percent increase in the show's popularity from the week before.
In Russia, Colbert focused heavily on President Trump's various (and perhaps nefarious) connections to the country. Notably, he rented the hotel suite in Moscow where the infamous "pee tape" was allegedly filmed. Colbert told viewers he wanted to get "soaked in history." Well, many Americans wanted to get soaked, as well.
This is obviously a big win for Colbert's team in what has been an already fruitful summer for the show. Earlier this month, "The Late Show" received its first Emmy nod with Colbert as host for "Outstanding Variety Talk Series," while Fallon's show was snubbed. HuffPost also reported last week that Colbert's special Ben & Jerry's ice cream, AmeriCone Dream, may be catching up in sales to Jimmy Fallon's The Tonight Dough.
Fallon's show had initial success by featuring various carnival games with celebrities. Now that a celebrity is turning the world into a carnival game, Colbert's more satirical brand of humor seems to be resonating more and more.
REAL LIFE. REAL NEWS. REAL VOICES.
Help us tell more of the stories that matter from voices that too often remain unheard.
BEFORE YOU GO