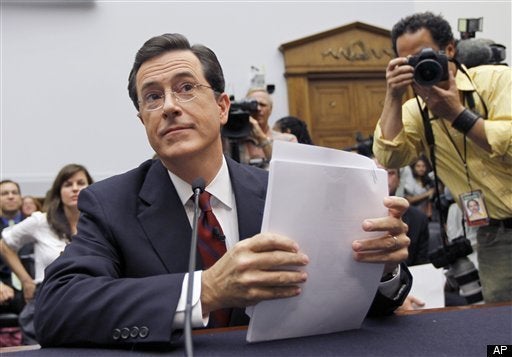 House Majority Leader Steny Hoyer (D-Md) was neither humored nor pleased with Stephen Colbert's recent testimony before the House Judiciary committee's subcommittee on immigration, calling it an embarrassment for the Comedy Central host.
"I think his testimony was not appropriate," said Hoyer, during an appearance on "Fox News Sunday." "I think it was an embarrassment for Mr. Colbert more than the House."
"You asked me, Chris [Wallace] whether the testimony was appropriate," he added. "I think it was not appropriate."
Colbert appeared before the committee on Friday in his trademark unaware, archconservative character to discuss his 10-hour volunteer work as a migrant farm worker. Almost immediately, lawmakers were piqued by the performance, with some cheering him on and others shaking their head in disbelief.
Committee chair John Conyers (D-Mich) asked Colbert to leave the room. House Speaker Nancy Pelosi (D-Calif.), meanwhile, said she thought the performance was "great" and "appropriate."
"He's an American, right?" said Pelosi. "He came before the committee. He has a point of view. He can bring attention to an important issue like immigration. I think it's great."
The matter seemed settled there. But preceding Hoyer on "Fox News Sunday," House Minority Leader John Boehner (R-Ohio) twice attacked Democrats for calling a comedian to Congress at a time when they should be passing jobs bills. Perhaps spooked by the charge or merely reflecting his own viewpoint, Hoyer largely agreed.
"What he had to say was not the way it should have been said. If he had a position on the issues he should have given those [positions]," he said.

Popular in the Community