Colbert piled on more criticism of Fox News' Steve Doocy on Monday night, roundly mocking the host for misrepresenting President Obama's remark about not being born with a silver spoon in his mouth in a recent interview with Mitt Romney.
Doocy had asked Romney to respond to Obama allegedly saying, "unlike some people, I wasn't born with a silver spoon in my mouth" last Thursday. In reality, however, Obama had never said "unlike some people." The error was reported as an attack on Romney, and Doocy issued a correction on Tuesday morning.
Colbert ridiculed the mistake on Monday night. After replaying Doocy's interview with Romney, Colbert said the alleged quote was a "cowardly statement by the president, made all the more cowardly by the fact that he never said it."
He went onto sarcastically defend Doocy, saying that the Fox News host was not practicing "poor journalism," but rather "journalism plus by quoting the subtext."
Colbert proceeded to demonstrate. "I don't give out hand jobs at the bus station... unlike some people," he said.
As HuffPost's Amanda Terkel has pointed out, Obama has been making the "silver spoon" comment for years. But even Obama's 2008 slogan could have been a prime example of a potshot at Romney, according to Colbert. "Yes, we can... unlike some people," he joked.
Related
Before You Go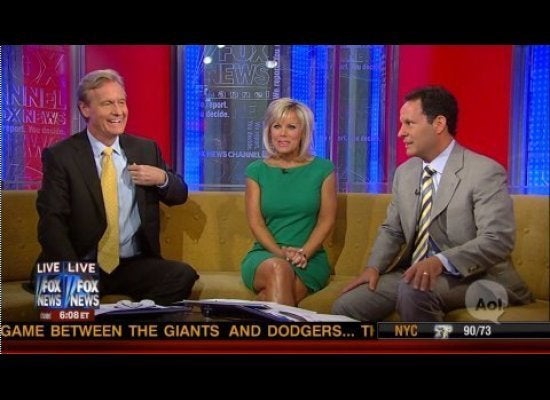 Fox News Lineup
Popular in the Community