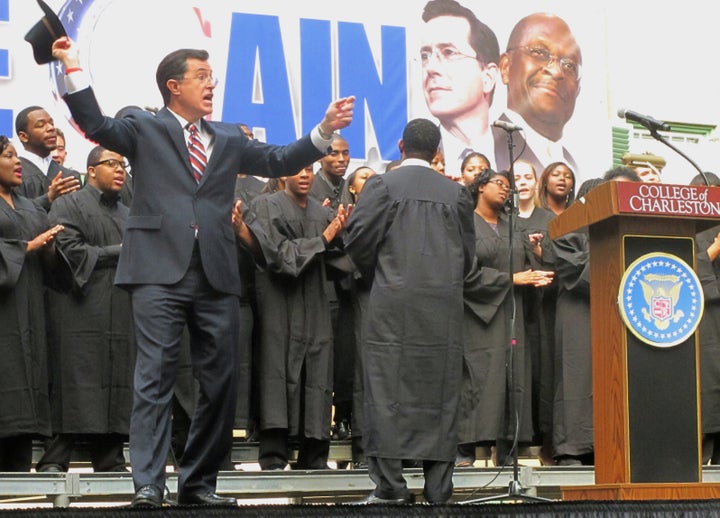 WASHINGTON -- At 12:01 Tuesday morning, the most famous super PAC in America disclosed its donors for the first time. Americans for a Better Tomorrow, Tomorrow, the vehicle for much of comedian Stephen Colbert's recent hijinks, disclosed that it had raised $825,475 from its inception in the middle of 2011 through December 31.
While most political observers want to see which billionaires and millionaires are bankrolling the super PACs backing the Republicans competing for the presidential nomination, the Colbert super PAC did not receive similarly super-sized campaign contributions. In fact, 90 percent of the contributions to Americans for a Better Tomorrow, Tomorrow -- which can receive unlimited contributions from individuals, corporations, and unions -- came from donors giving under $250. Those small donors are not required to be listed on the super PAC's disclosure forms filed with the Federal Election Commission.
Colbert has repeatedly satirized the Supreme Court's Citizens United decision, praising it for opening the door to unlimited corporate campaign contributions. His super PAC, however, only received contributions from two corporations. The Sticky Fingers Band, a Rolling Stones tribute band, and BestDamnTutoring.com gave $400 and $314, respectively. (You're welcome for the publicity.)
The filing came accompanied by a press release announcing that Colbert had reclaimed control of his super PAC from fellow comedian Jon Stewart, who had taken charge of the group while Colbert pursued his bid for the Presidency of the United States of South Carolina.
In a separate filing sent to the FEC along with the year-end disclosure, Colbert states that the super PAC has raised almost $200,000 more in the month of January alone. That brings the full total raised to $1,023,121.
Colbert is quoted in the filing saying, ''Yeah! How you like me now, F.E.C? I'm rolling seven digits deep! I got 99 problems but a non-connected independent-expenditure only committee ain't one!''
Throughout the past year Colbert has used his show, "The Colbert Report," to make fun of the absurdities of campaign finance law in the wake of the Citizens United decision. In a five-part series, The Huffington Post documented the comedian's use of satire to help explain the variety of ways that the campaign finance system, from super PACs to the FEC, works in often incomprehensible ways.
Correction: An earlier version of this article misstated the amount that BestDamnTutoring.com donated to Colbert's super PAC. It was $314, not $310.
Popular in the Community