Writer and Fox News contributor Steven Crowder aired video of his violent physical confrontation with opponents of Michigan's right-to-work legislation, who gathered in Lansing to protest the bills' passage through the House.
Crowder argued with protesters who began to tear down a tent pitched on the Capitol lawn by the pro-right-to-work group Americans For Prosperity. According to MLive, Michigan State Police Lt. Mike Shaw said they were contacted because several people, including two in wheelchairs, were trapped under the tent.
Crowder was then punched repeatedly in the face by a protester, while another man speaking off-camera threatened to kill the Fox commentator with a gun. Crowder said there was no police presence in the area during the altercation.
Over 12,000 protesters gathered in Lansing on Tuesday to show their opposition to the hastily-approved right-to-work legislation, which they say will weaken unions financially and make it more difficult for labor employees to negotiate with employers. At least two protesters were arrested, while a former Michigan Democratic representative was hit with pepper spray.
Speaking on the Dana Loesch radio show immediately following the physical confrontation, Crowder said "Dana, they literally would have killed me where I stood if I'd've fought back and defended myself after the sucker punch. They literally would have torn me limb from limb."
He said he has a cut on his forehead and also suffered a chipped tooth from the skirmish. Tweeted Crowder:
According to Crowder's Twitter feed, more exclusive footage will be shown Tuesday evening on The Sean Hannity Show.
UPDATE: Dec. 12 -- On Twitter, Steven Crowder claimed that a protester threatened to kill him, which can be overheard off-camera in the video he posted. That video appears to be edited. Another video posted on YouTube by FTRMediaLive suggests that protesters were confronting a person possibly in possession of a firearm who may have been associated with the Americans For Prosperity. Electablog authored a post that also questions the sequence of events shown in the video.
CORRECTION: An earlier headline for this story referred to Steven Crowder as "Stephen Crowder."

Related
Before You Go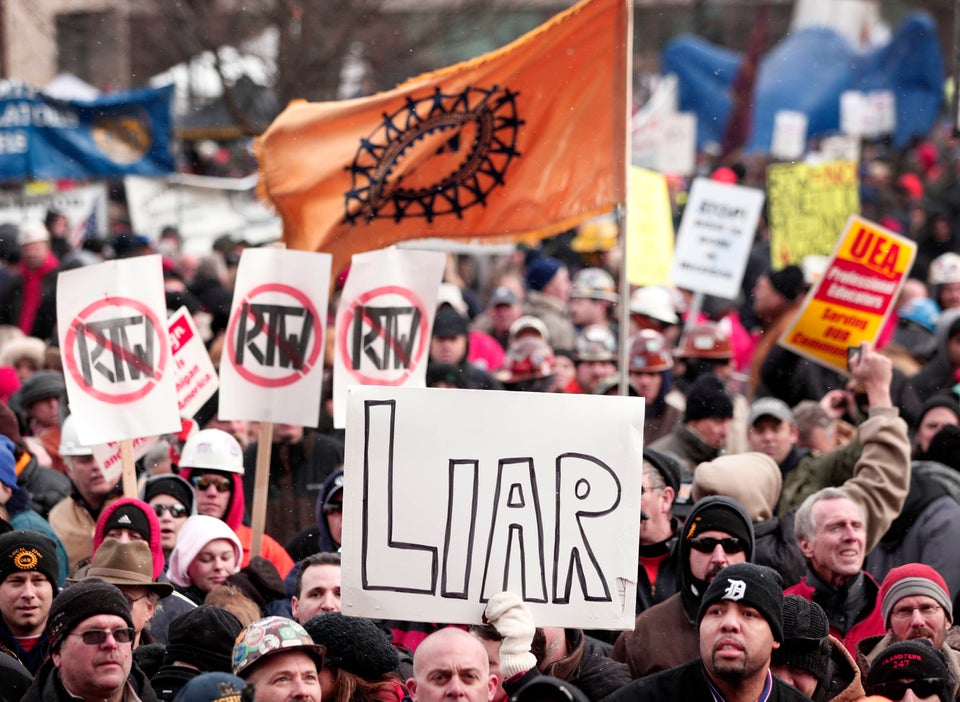 Michigan Protests Right To Work
Popular in the Community