"Curry crosses over his defender. Steps back. Shoots. It's good!"
"Steph drives -- no, he pulls up. From 30. And he hits it again!"
We've all listened to the play-by-play. We've all been stunned by the things that the Golden State Warriors' Stephen Curry does on and off the court, night in and night out. The NBA's reigning MVP is a legend in the making, and it's simply a pleasure to watch this guy pick up his dribble, cock his right arm back and let his jumper fly game after game.
He also happens to be just dawning on the prime of his career. When the clock struck midnight on Monday, Curry turned 28. So to celebrate the best shooter on the planet's special day, here are two things that we all should do: (1) Count our lucky stars that we're alive at the same time as this mind-boggling, human highlight reel of a superstar, and (2) follow along as we relay just 28 of the reasons why everyone loves Chef Curry.
1. Because his game-winners look like this.
2. Because he possesses seemingly clairvoyant shooting skills.
3. Because he can make the best in the game look foolish.
4. Because his bad shots are actually good shots.
5. Because it's better to have him throw it up from 28 feet than have anyone else shoot from 2-point range.
6. Because he's married to his best friend.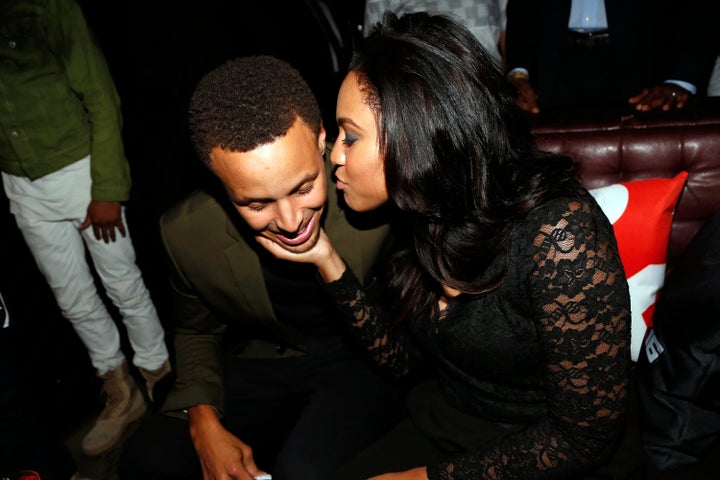 7. Because his warm-up routine is sports' best pre-game show.
9. And because his daughter Riley has captured the heart of each and every one of us.
10. Because he's an advocate for reasonable gun control.
11. And because he's the best player in the NBA, but he's human-sized.
13. Because his amazing plays are the lifeblood of hoops fans across the Internet.
15. Because even A.I. can admit Steph is different.
16. Because he made the audience clap for his wife during his MVP speech.
His shooting clip is so high, his moves so silly, that the video game is having trouble translating them from court to screen.
18. Because even his biggest rivals can't get enough of him.
20. Because he's against mass incarceration.
22. Because he was a one-man Cinderella story in college.
24. Because his use of the Michael Jordan Crying Face meme was perfect.
25. Because his family is a blast to watch on social media.
27. Because his celebrations are so damn joyful.
28. And most of all, because he's a classic underdog story.
Before You Go
Stephen Curry: From Rookie To Stardom