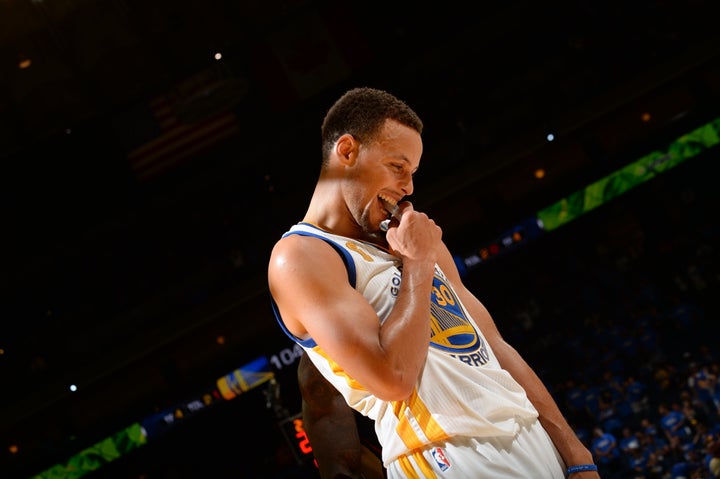 If you wanted to level one criticism against Stephen Curry last season, it was that he wasn't selfish enough.
The Golden State Warriors star is perhaps the greatest shooter in NBA history, yet he only hoisted up 16.8 field goal attempts per game during his MVP campaign, putting him at just 13th in the league and even a tick below his backcourt running mate, Klay Thompson.
The Warriors won the championship in spite of Curry's unwillingness to hog the ball, but if his team really wants to win, say, 70 games this season, as Thompson recently posited they have a chance to do, Curry's going to need to hoist way more often than he has in the past. 
Through three games this season, he has. The Warriors are 3-0 and Curry is letting it fly like he never has before, upping his average nightly shot total by nearly six so far to 22.7 per game -- second only to Oklahoma City's Russell Westbrook -- while still making 58.8 percent of them. More amazingly, Curry has launched roughly four more threes per game so far than he did on average last season, when he led the league in that category, yet his 3-point shooting percentage has still somehow gone up by roughly four percentage points. 
Should that similar percentage hold up, the analytics community will surely jump with delight, as a common anti-analytics refrain has been that in the real world, more shots must necessarily lead to lower percentages.
In Curry's case, it hasn't. Then again, perhaps Curry is no longer working within the real world. In tangible ways, he has catapulted himself into another basketball stratosphere. He's averaging a league-leading 39.3 points per game -- seven more than Westbrook and Blake Griffin, who are currently tied for second, and the most total points through three games since, you guessed it, Michael Jordan. He has also put together a ridiculous 52.35 PER, and his closest competition there -- ignoring injured teammate Andrew Bogut -- is Griffin, whose PER is all the way down at 37.8. It goes without saying that Curry was awarded Western Conference Player of the Week on Monday.
Curry isn't just shooting more. He's also dominating a larger percentage of his team's plays. His usage rate, or the percentage of a team's plays that he's involved in while on the court, has spiked, which allows his play-making skills to really shine. Last season, he was involved with 28.5 percent -- the 12th highest such rate in the league. High, but not ridiculously so. Through three games this year, however, he's pushed that usage rate up to 35.0, a rate of involvement only topped by Westbrook, DeMarcus Cousins and … Jrue Holiday?
That a good-but-not-great player like Holiday ranks so high on that list should serve as a reminder: This is a statistically insignificant sample size. Just as we can expect Holiday's usage rate to fall dramatically, Curry fans should brace themselves for Curry's stats to drop across the board. After all, he has been on absolute fire. One of his games was a sharp-shooting 53-point masterpiece against Anthony Davis and the New Orleans Pelicans. 
He can't possibly be this good all year, but fans should take solace in the early evidence that this is a different, more aggressive Curry we're seeing. Through his first three games last season, Curry shot 18 field goals and 7.3 threes per game, in line with what would become his averages and much less than what we've seen so far to start this campaign. 
What Warriors fans should hope is that once their star does inevitably cool down, Curry doesn't revert back to the selfless hero of yesteryear. For one, it gives the Warriors a better chance to win. But also, life is just better when the ball is in Stephen Curry's hands.
PHOTO GALLERY
Some Cool 2015 NBA Finals Photos
Calling all HuffPost superfans!
Sign up for membership to become a founding member and help shape HuffPost's next chapter