Behold, a master perfecting his craft. Every time Golden State Warriors point guard Stephen Curry dribbles on a basketball court, onlookers can only hope that the reigning NBA MVP decides it's time to unveil a new, unbelievable move. Watching certain players can become repetitive. Curry is decidedly not one of those players. He's already flooded Vine with a bounty of moves, and he's only getting better.
At no point during the drill does Curry appear to be worried about or even aware of the basketball he's dribbling. It's just second nature to the master. He's solely focused on that damn tennis ball, as he should be, because the drill only gets harder from here.
That's right. It's time for TWO TENNIS BALLS.
Now this is how you multi-task. Again, the basketball is just there as an extension of his hand. Executing this drill is already near-impossible for a human like you or me, but because Curry is indeed alien, he does it wearing a pair of intergalactic-looking glasses to make everything even harder. They're not "drunk glasses" as an anonymous bystander quips in the original video, but they do severely impair Curry's vision.
"He can't see [using those glasses]. He wants to do the drills without much vision," said Warriors Vice President of Public Relations Raymond Ridder to The Huffington Post on Thursday.
Curry is likely using a version of a very simple basketball training tool that coaches use to teach youth players dribbling without looking down. The glasses Curry's wearing essentially block the lower part of your vision, instead focusing the player's perspective on what's happening ahead.
And when Curry's looking ahead, he does things basketball players haven't even dreamed up yet.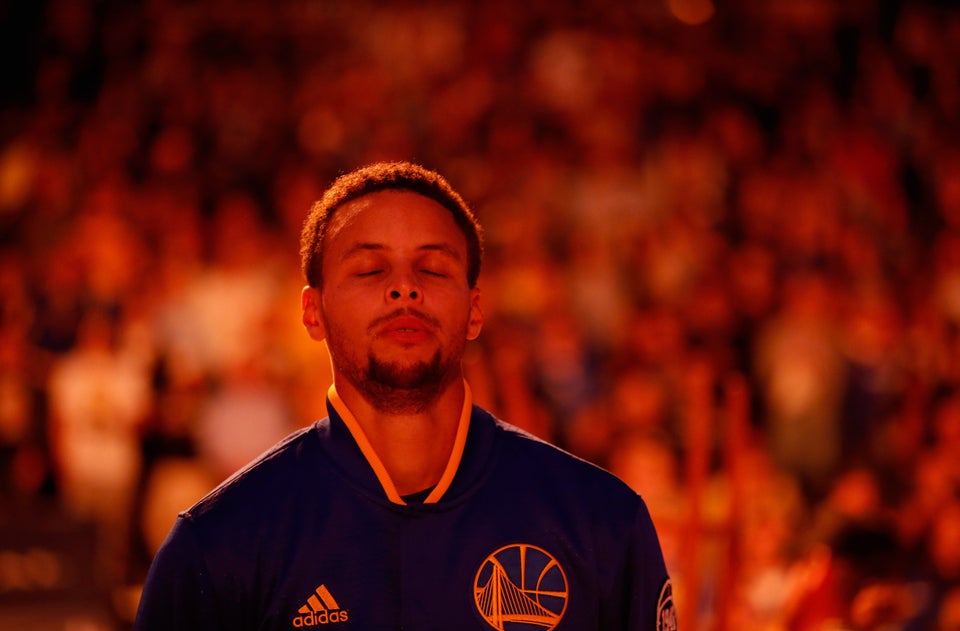 Ridiculous Stephen Curry Photos From His 2015-2016 Season
Related