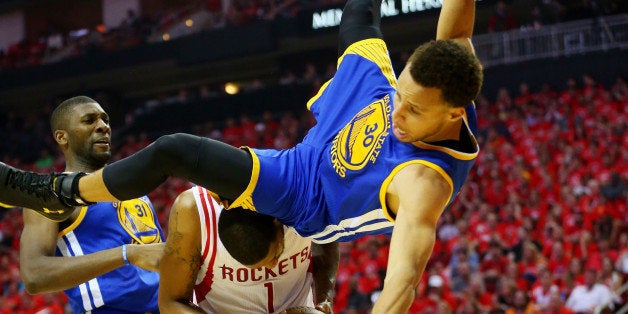 Warriors star Stephen Curry left Game 4 of the Western Conference Finals after being upended during a play and coming down hard on his head.
With just under six minutes to play in the second quarter, Curry launched beneath the Houston Rockets' basket to block Trevor Ariza, his trajectory putting his knee into Ariza's upper back, causing Curry to flip over the head of the Rockets' forward.
Curry lay on the ground for several minutes, as the stadium went silent, and exclamations of worry and shock lit up social media. He was back on his feet several minutes later, exiting the court holding his head and arm.
Curry had 11 points in 13 minutes when he left the game. He was also given a foul on the play that sent him off the court.
Later in the third quarter, Curry made his way back on to the court, after running the halls outside the locker room to warm up for his return. The team approved his return, saying he did not show signs of any concussive symptoms. Warriors general manager Bob Myers tweeted Curry "should be all right."
Curry got right back to work, appearing to be firing on all cylinders, as Golden State tried to shorten Houston's lead. But Curry's return wasn't enough, the Rockets winning 128-115, forcing a Game 5 in the series.
The Warriors lead the series, 3-1. Game 5 is set for Wednesday at 9 p.m. ET, at Golden State. The winner of the series heads to the NBA Finals.
Popular in the Community