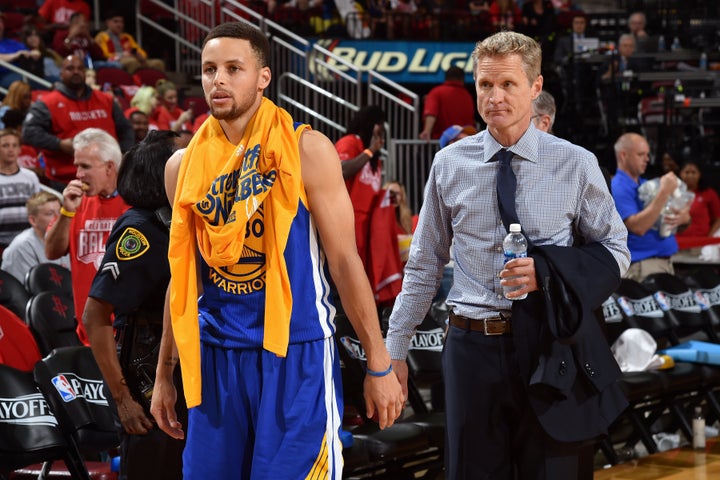 Curry is undoubtably great, but the beauty of Golden State's offensive scheme is that it doesn't change when he leaves the floor. Spacing, ball movement, dribble penetration remain paramount -- all three elements lead to the 3-pointer. And all three elements still create excellent offense. If any roster was designed to handle such a devastating injury, it's this one.
What makes the Warriors lethal is their capacity to play positionless basketball, including their superior passing bigs. Draymond Green might guard a center and play the point. Shaun Livingston has become an elite post-up guard whom newly minted NBA Coach of the Year Steve Kerr can comfortably plug into endless side pick-and-rolls. Moreover, Andre Iguodala provides rare flexibility as a de facto point-forward. And Klay Thompson (42.5 percent from 3) might be the second most feared marksmen in the game after Curry.
Green's decision making and overall passing ability -- especially in the open floor -- has become the ultimate luxury. It often expunges Thompson from having to handle the ball (when Curry isn't on the floor), and forces opposing defenses to "waste" their best perimeter defender on a 6-foot-7, 230 lb. bulldozer.
It's pretty simple for the Warrior bigs: Run the floor and Green will find you. Along with LeBron James, he is the only non-guard to rank in the top 23 in assists this season. In fact, Green's 7.4 assists per game this year is not only more than the seemingly immortal James, but it leads the Warriors as well.
In this play, Houston chooses to face-guard Thompson from 70 feet out. Green, in turn, makes them pay for the lack of help.
Livingston's career resurgence from an afterthought to a key cog with this team is in large part due to Kerr's willingness to trust him as a primary decision maker in the half-court. This lackluster effort by the much smaller Jason Terry is the result.
Even without Curry on the floor, the threat of the 3-pointer forces defenses into preposterously denying Thompson 20 feet from the ball, a full fledged skip pass from danger territory. A simple basket cut by Thompson and the wherewithal of Livingston effectively counters it.
Thompson, a longtime favorite of mine, is such a lethal 3-point threat that we often forget about his predatory scoring instincts aside from the long ball. In this play, the Rockets' Trevor Ariza -- an upper echelon perimeter defender -- knows he can't go under the screen against such a great shooter, so he trails. Thompson feels him on his hip and makes the proper read for an easy drive and dunk. Green's role is simple, even sans Curry: He pops to the 3-point line, which in turn forces Dwight Howard -- Houston's only shot-blocker -- away from the hoop and creates the necessary spacing.
In this beautifully drawn up misdirection play, Thompson makes a splendid straight-line drive to the basket. When the defense collapses, he throws the perfect lob to Andrew Bogut. Once again, Curry is not on the court.
The loss of Curry cannot be overstated. The Warriors' offensive efficiency without him on the floor this season is 105.3 -- which would still rank ninth-best in the NBA -- compared to the video-game like 119.1 with him on the floor. But great players adjust, as do coaches.
Golden State, at its core, is a highly balanced offensive machine that can still win basketball games without its megastar. Can it win another world championship? Probably not. But assuming Curry returns within the two-week timetable, it won't have to either. It merely has to survive.
What gets lost amid such offensive prowess is that the Warriors are also one of the league's premier defensive units, buoyed to no end by a devastating home-court advantage. In fact, when playing at Oracle Arena, they surrender seven fewer points per game than when playing on the road. And with their 73 wins -- 41-2 in Oakland -- the Warriors have secured home-court advantage throughout the postseason.