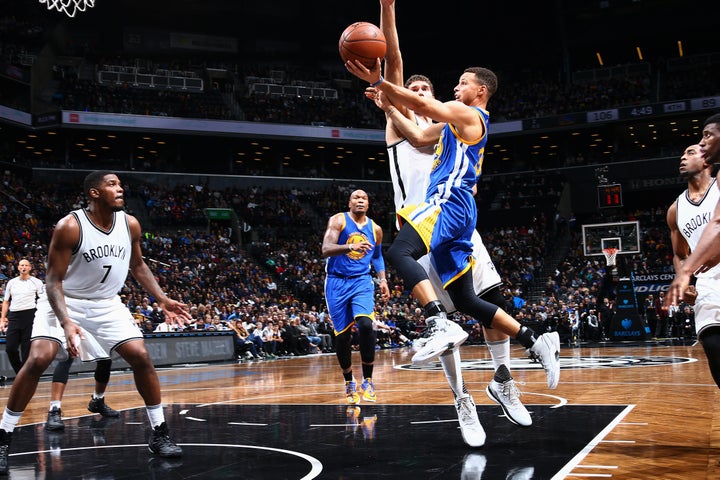 This was the best-case scenario for the 5-14 team, and the players were understandably excited. But at that exact moment, the reigning MVP did what every Nets fan in the arena was worried he would do, and what every NBA fanatic has seen him do so many times: He took hold of the Nets' heart and meticulously ripped it out of the team's chest for the final two minutes of the quarter, single-handedly and effectively ending the game then and there.
Curry was involved in every Warriors' possession from 2:14 on in the quarter, and he played all but one to perfection. It was sight to behold, unless you were a Nets fan, in which case it was a sight to avoid at all costs.
First, he crossed over Jarrett Jack and hit a floater off the glass. Tie game, 76-76.
Next time down the court, he pulled up for a patented how-did-he-do-that three-pointer. Warriors up, 79-76.
Next time down the court, he missed -- his only mistake of the final 2:14 of the quarter. He then quickly made up for it by grabbing the defensive rebound and hitting Festus Ezeli for the alley-oop dunk. Warriors, 81-78.
Next, Ezeli hit Curry back for the layup plus the foul. He made the free throw. Warriors, 84-80.
Then finally, with just seconds remaining on the clock, Curry's two-minute torture of the Nets ended the only way it could have: with a three-pointer that made not one but two Nets defenders look silly. Warriors, 87-80.  
Technically, the teams had to play another quarter. But watching the game live, it felt like everyone knew it was over right then and there. Especially Curry.
PHOTO GALLERY
Ridiculous Stephen Curry Photos From His 2015-2016 Season
REAL LIFE. REAL NEWS. REAL VOICES.
Help us tell more of the stories that matter from voices that too often remain unheard.