Perhaps no position in the NBA is more fungible than the point guard, and there have been few times in the game's history when we've seen such an influx of quality at that spot. Chris Paul, Tony Parker, Russell Westbrook, Kyrie Irving, Derrick Rose, Kyle Lowry, Damian Lillard, John Wall -- these guys are bona fide stars who anchor offenses every night. But it is the Golden State Warriors' Stephen Curry, the 26-year-old 3-point bomber from Davidson College, who has transformed himself into the premier point guard in basketball.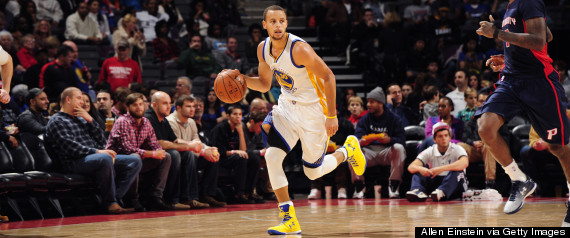 He can't jump like Westbrook or explode to the rim like Wall, and he probably wouldn't win a bench-press contest with Lillard, but Curry's remarkable offensive prowess and overall efficiency make all the difference.
At nearly 24 points per game, Curry -- who is just 6 foot 3 inches and 190 lbs. -- leads all point guards in scoring. He shoots 50 percent from the floor, a clip normally associated with forwards whose attempts mainly come from 16 feet and in. Better yet, Curry's 65 percent true shooting percentage -- which measures field goal percentage, 3-point percentage and free-throw percentage -- is one of the highest in the history of NBA lead guards.
The efficient, unselfish nature of Curry's game means that his offensive genius -- which I chronicled during his rookie season -- can be measured in a variety of ways. His ball-handling ability is so sound, and his touch so deft, that it's easy to forget he's also a splendid passer. Forget the 7.6 assists per game for a moment, and consider that Curry has consistently ranked in the top five of pick-and-roll efficiency almost since he came into the league.
Defenses are taught to hedge high and hard on Curry to avoid open 3s, but his unselfishness and floor vision give him an ability to make uncanny plays that are like something out of a video game. Despite not having the elite first step of an athlete like Rose, Curry plays with such control and pace that he has figured out how to use a defender's aggressiveness and length advantage against him. The big man playing in tandem benefits greatly as a result, as does the shooter waiting for a skip pass in the opposite corner. Klay Thompson is often that shooter, and he discussed this aspect of the game with The Huffington Post last year.
"I like to play off Steph," Thompson said. "He just spaces the floor so much. He's a great playmaker too, so when we're both on the court, we really stretch the floor. We both feed off each other. It's a ton of fun, you know, being able to get to the paint, kick it out. Anytime you see Steph wide open, it's pretty much automatic."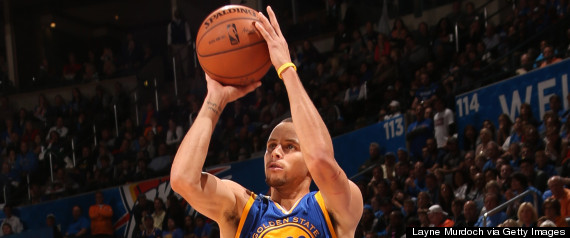 About the only concern with Curry is his glass ankles, which have plagued him as a pro. He has yet to play an entire 82-game season, and at times it's been a frustrating process to watch him fight his way back to becoming an elite floor general. But Curry, who spent his summer with Team USA winning the FIBA World Cup gold medal in Turkey -- where he was often the team's primary ball handler, and at times its go-to scorer -- is once again finally healthy. He has parlayed his stellar play on the global scale into this, his sixth season in the league, where he is also averaging a career high in rebounds despite playing fewer minutes. In essence, he controls the entire ecosystem of the Golden State Warriors.
Arguably the best part about Curry's success has been its effect on the Warriors as a team. Newly minted head coach Steve Kerr has seen his point guard dynamo lead Golden State to a staggering 15-2 start, the best start to a season in franchise history. One more victory and the team will have 11 consecutive wins, a streak that has not been matched since the 1971-72 campaign. To put that in perspective -- Richard Nixon was re-elected that year, "The French Connection" won Best Picture and Neil Diamond was at the top of the charts. So yeah, it's been a while.
Curry's most recent antics came during the final 2.2 seconds of Tuesday's game against Orlando, when he sank what turned out to be the game-winning triple. Perhaps Kerr summed it up best: "I know exactly what was going through his mind. He's going to win the game. He has the ultimate confidence ... That's why he's Steph Curry."
Now, more than ever, those words mean something very special.
Email me at jordan.schultz@huffingtonpost.com or ask me questions about anything sports-related at @Schultz_Report, and follow me on Instagram @Schultz_Report. Also, be sure to catch my NBC Sports Radio show "Kup and Schultz," which airs Sunday mornings from 9 to 12 EST, and "Countdown to Kickoff with Jordan Schultz" from 12 to 1 for fantasy football and spreads, right here.
Popular in the Community