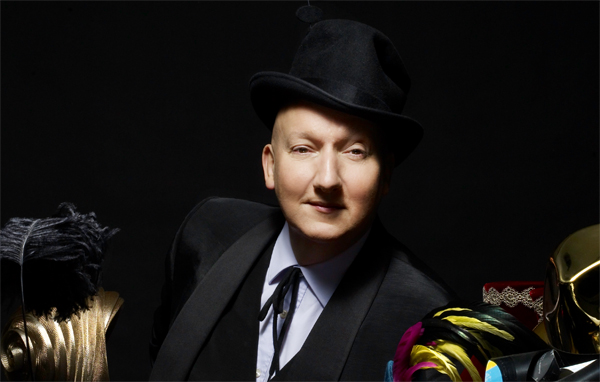 Video by
On the day that I meet him at his studio in Covent Garden, he is extremely busy, caught up in a meeting to discuss the hats he's making for Raf Simons's debut couture collection for Christian Dior. It's all rather hush-hush. "I'm working with Christian Dior, where they have a new designer Raf Simons. It's very exciting to be working with him; it's his first collection for the house. I can't tell you much about it though, I'm afraid," he smiles coyly.
Jones, who studied fashion at St Martin's School of Art, says his education as a milliner came more from his late night jaunts than from his days in school. "My real training came from my sort of night life on the night club scene. I learned so much from my friends at places like the Vortex or the Blitz Night Club. I made hats for the girls who went there, and they were my inspirations."
For such a prolific designer, will he never turn his hand to clothing? "It's funny, people often ask me, "Why do you make only hats? What don't you do clothing or ready to wear?" says Jones. "I always wondered if I could do clothing as well. And you know what? I thought that until the spring of 1993. At that time, I was working with John Galliano, and I realised when I was working with John that he could do better clothes then I ever could. So I gave up the idea of being a fashion designer," he says modestly.
With the world's top designers clamouring for his creations and with exhibitions at leading museums including the Victoria & Albert Museum in London and MoMu in Antwerp, Jones will surely excel in anything he puts his head and heart into, including designing clothes.
With over 30 years in the industry, the designer has had some extraordinary fashion moments. "The second season that I've worked with John Galliano, which was in Hôtel Particulier in Paris, he showed only fifteen outfits, which were more or less all black. But we had the great superstar models of the day: Linda Evangelista, Kate Moss, and Nadja Auermann. They all did the show for free. And we did some really great hats for him, which were sort of forties. It wasn't only the hats, but it was the combination of the hats, with the hair, with the makeup, with the girls, with the deco, everything coming together made it an extraordinary fashion moment for me. That was 1994."
But the designer isn't all about hats. "I am not sure that fashion makes me happy. I think hats sort of make me happy. Friends make me happy and art, and beauty, just like anybody else but I think people are my top priority. I always used to like travelling and seeing different things in the world. But eventually, I realised that life is actually about people, not places."
Popular in the Community