WASHINGTON ― As lawmakers seek to negotiate a deal to give legal status to young undocumented immigrants, one of President Donald Trump's senior policy advisers seems to be pursuing a strategy to torpedo the talks.
Stephen Miller, who's devoted much of his career to advocating for more deportations and slashing legal immigration, has been given significant latitude to work on the outlines of a potential agreement to protect recipients of the Deferred Action for Childhood Arrivals program, which Trump announced last month he would end.
Trump also said he wanted Congress to pass legislation to give so-called Dreamers ― young undocumented immigrants who came to the U.S. as children ― legal status before March, when they are set to begin losing protections in larger numbers. But there's doubt on Capitol Hill about whether Miller wants the same ― and concern that he may have enough influence to sink a deal if he doesn't.
Word among Republican aides briefed on Miller's motives is that he is trying to blow up a deal on DACA, using demands on legal immigration to open up a broader conversation that he knows will impede a smaller agreement.
One aide familiar with the discussions put it starkly: "Either the president is negotiating in bad faith, or Stephen Miller has hijacked the negotiation."
"The Stephen Miller wish list is a non-starter with Democrats, and this divides Republicans in both the House and Senate," the aide continued. "Until Miller takes a backseat, the DACA deal is going nowhere."
According to this aide, the White House will soon ask that any deal on DACA include provisions from the so-called RAISE Act pending in Congress that include cuts to legal immigration ― perhaps even slicing the current numbers in half. The White House also will seek to give state and local authorities the power to enforce immigration laws, as well as for provisions criminalizing anyone here without a legal status, the aide said.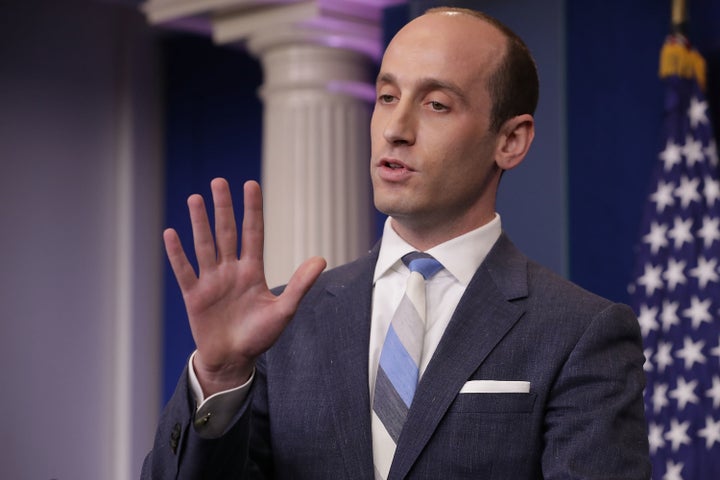 Miller also apparently wants to put the onus on Congress to designate individuals who qualify for temporary protected status in the U.S. ― a move that that would likely stunt anyone from getting that designation. The status prevents certain individuals already in the U.S. from being deported to countries facing armed conflict or recovering from natural disasters.
On top of all this, Miller still wants to add billions of dollars for border security, detention beds, and immigration judges.
Even Republican senators admit a wish list like that would stymie a resolution on DACA.
"Once we start getting into the legal immigration debate and what the appropriate fixes are there, we're in danger of getting into the comprehensive immigration reform debate, which leaves us basically empty-handed," Majority Whip John Cornyn (R-Texas) told HuffPost on Thursday.
"We ought to be narrowly focused on the DACA fix that the president's asked us to consider," Cornyn said. He added that once Congress had taken care of DACA and border security, then lawmakers could turn to "these other issues in the next legislation."
Congressional Republican leaders seem to support making DACA permanent in exchange for some border security elements, though Democrats insist a border wall will not be part of that deal.
"The most immediate thing we can do is address the DACA situation," Cornyn said, "and I think the most logical way forward, is to combine that with border security and interior enforcement" of immigration laws.
Asked specifically about Miller potentially trying to thwart an immigration deal on childhood arrivals, Cornyn said he didn't know why the White House aide would want to do that.
"He doesn't want border security?" Cornyn asked. "This is a way for us to get what the president ran on, and what all of us believe is very important, which is border security and enforcement of the law."
The White House did not respond to a request for comment.
Sen. James Lankford (R-Okla.) said he wasn't necessarily against a larger bill. "As many things that need to be addressed, should be addressed, because we won't do it again for three decades probably," he said.
But he added that once lawmakers started dealing with new limits on the number of legal immigrants, Congress would also have to address temporary visas.
"Then suddenly the bill gets really big," he said. He acknowledged that Trump's stated wish list may be less complicated.
"The president has been very clear: 'I want border security, I want DACA settled,'" Lankford said.
Sen. Jeff Flake (R-Ariz.) said he wants further immigration reform ― he was part of the "gang of eight" that drafted a comprehensive bill that passed the Senate in 2013 ― but now isn't the time.
Flake is a co-sponsor of the Dream Act, which would grant legal status to the young undocumented immigrants. And on Thursday he introduced a bill that pairs Dreamer protections with border security.
"I think it's tough enough" to pass a deal that combines those two elements, he said.
"With the deadline we have with DACA, I think it's unrealistic to think we can do broader immigration [reform]," he said.
Many Democrats are pushing for a "clean" Dream Act ― that is, one that doesn't deal with other policies. But party leaders have said they would be willing to accept border security measures in exchange for legal status for Dreamers.
The two top Democrats in Congress thought they had that deal with Trump in September. Senate Minority Leader Chuck Schumer (D-N.Y.) and House Minority Leader Nancy Pelosi (D-Calif.) said Trump had agreed in principle to pair Dream Act-style legislation with border security ― nothing more.
Trump officials insist there was no such accord. When Trump met with Republican lawmakers on Monday, he told them he would demand more in exchange for legal status for Dreamers, potentially including border wall funding and cuts to legal immigration.
But Democrats seem unlikely to go along with that.
Turning efforts for a deal "over to Stephen Miller is essentially letting a bull loose in a China shop," a senior Senate Democratic aide said in an email. "If the president wants this to work, he needs to get control of the process."
Ali Noorani, executive director of the pro-reform National Immigration Forum, said he thinks Trump wants to do something to protect Dreamers from deportation and understands that will require a compromise with Democrats. But he doesn't think Miller goes along with that.
"The president is being undermined by his own people," Noorani said.
"There have been so many rumors, so many leaks about it," Noorani said of Miller, adding that the White House aide has seemed "increasingly desperate" to scuttle any sort of legislative compromise for Dreamers.
The argument over DACA threatens to become a flashpoint between some Hill Republicans and the Trump White House. It's unclear where Trump himself will come down, but if some lawmakers and aides are right, Miller could thwart even the smallest deal that trades DACA provisions for border security.
Popular in the Community