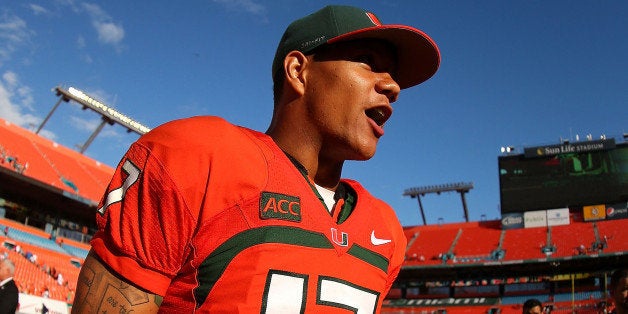 ORLANDO -- --At this point, the reality hasn't quite set in yet. Not for Stephen Morris.
The Miami quarterback, who has weathered both two years of uncertainty around his program and a rocky senior season marred by a painful ankle injury, is too busy preparing for Louisville's potent defense to focus on the fact that come Saturday, he'll take the field for the last time as a Hurricane.
He'll do so in the Russell Athletic Bowl against a counterpart he knows well, a fellow South Florida native whom he once played against in Little League, a quarterback that has worked his way to the top of plenty NFL draft boards.
Louisville's Teddy Bridgewater, a Miami Northwestern graduate who once committed to the Hurricanes, is a proven commodity that has generated plenty of buzz ahead of Saturday's game. But it's Morris who hopes one last game at Miami (9-3) combined with a solid showing at next month's Senior Bowl will show NFL scouts that he too can make big plays, that he too, can succeed at the next level.
"I think one game is very important, especially the atmosphere this game is going to be in," said Morris, who needs just 132 yards to become only the second Miami quarterback behind Gino Torretta to have multiple 3,000-yard seasons. "The competition we're going to see, the stage of the game. I think this one game is very important. I'm getting back to healthy. I think I can show a lot of my game, the improvement in my game."
After a strong finish in 2012, Morris came into his senior year with high expectations.
But an ankle injury in Miami's third game hampered him all season. He struggled to manage the pain, and with his mechanics altered, Morris had a stretch of disappointing games including a career-worst four-interception performance against North Carolina.
Still, he fought through the injury, adding his name to Miami's record book in the process. He's now third on the Hurricanes' all-time career passing list with 7,736 passing yards and he's determined to finish his career by helping Miami secure its first 10-win season since 2003.
"We're going to finish the way we always said we were going to finish, by winning a bowl game," Morris said.
As well as Morris will have to play, he'll need help from his defense to make that happen.
Bridgewater comes in having completed 268 of 382 passes for 3,523 yards for Louisville (11-1). He has 28 touchdowns and just four interceptions, a fraction of the 12 picks Morris has thrown.
All week, it's that number that has impressed Miami's defensive backs, a unit that has at times struggled giving up an average of 233.4 passing yards per game.
"We know what he brings to the table. I think the one thing is that he can really make all the throws," safety A.J. Highsmith said of Bridgewater. "I think he really understands defenses well. He takes what you give him and he doesn't force the ball. He's really smart. He doesn't take plays until they're presented to him. He'll take his shots when they're there, but he does a really good job protecting the football and moving his team down the field."
Adds Miami defensive coordinator Mark D'Onofrio, "He's disciplined and he can make something happen out of nothing...he's going to make good decisions with the ball."
That's the kind of performance Morris understands he needs to put together Saturday.
And for the first time in a long time, he says he feels physically ready to make it happen. And he knows this is the perfect time to do it.
"I'm as healthy as I've been. I understand this is my last everything--my last media, my last bowl game, my last game at Miami. I'm just trying to take it all in," Morris said. "My whole career at Miami, it's been fun. I'm glad I'm a Hurricane. I'm so happy to be here. And hopefully, when I leave, people still remember."
ccabrera@tribune.com; Follow on Twitter @ChristyChirinos. ___
(c)2013 the Sun Sentinel (Fort Lauderdale, Fla.)
Distributed by MCT Information Services
REAL LIFE. REAL NEWS. REAL VOICES.
Help us tell more of the stories that matter from voices that too often remain unheard.