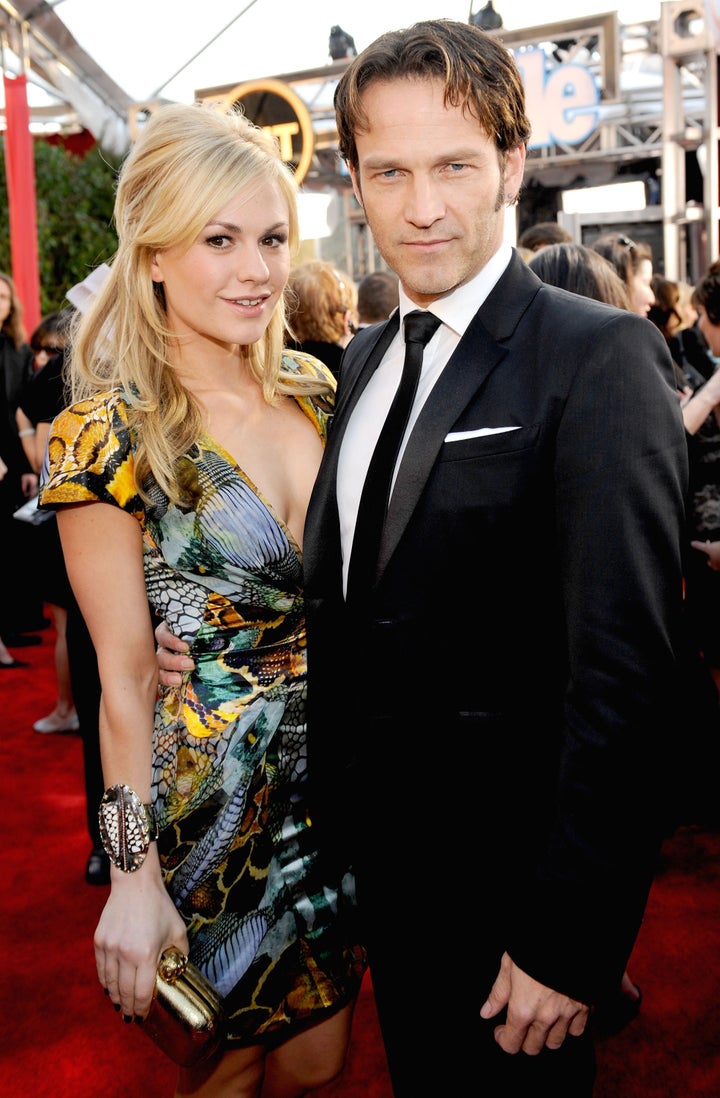 Stephen Moyer opens up in a new interview in Playboy about the mechanics of vampire sex, his wild upbringing in England and his fiancee and 'True Blood' costar Anna Paquin's bisexuality. Here are some excerpts:
On Anna Paquin's bisexuality:
"I've never been in a relationship before in which, literally within the first three days, all the cards were laid out...It wasn't something that was kept from me. I condone what she has done 100 percent, and it's her business to talk about it, not mine. It doesn't change anything. I'm proud of who she is."
On human-on-undead vampire sex:
"Unlike werewolves, who are very hot, vampires are steely cold, so sex with the undead isn't going to get hot and crispy. There's no heartbeat, no adrenaline rush as you get close to the moment. But in terms of speed and timing, you may be able to have sex that lasts for days. Vampire sex is muscular and physical, so it could be tiring for a human guy to have sex with a female vampire. I often think a lot of women's attraction to vampires is based on the fact that vampires come from centuries ago, from eras of chivalry and courtly virtues. So it's about being treated like a lady but being physically overtaken in the sack."
On the different types of sex on the show:
"Sex on our show is like a big muffin that's heating up, overflowing and expanding in an oven. This time last year I was thinking, What the fuck are we going to do next year to top this? Well, I can tell you it's weird and exciting this year. As I said, the show is more character-centered--and I'm not saying it's better or worse for it--but there's certainly just as much, if not more, interesting sex because of it."
On losing his virginity:
"I was quite young when I started doing all right, below legal age and with somebody I knew very well. It happened outdoors and was very naughty and unexpected. In my little village some girls reached maturity at a young age, and there was a lot of 'you show me yours and I'll show you mine' stuff happening, lots of looking and a little bit of touching too, from a very young age."

Popular in the Community