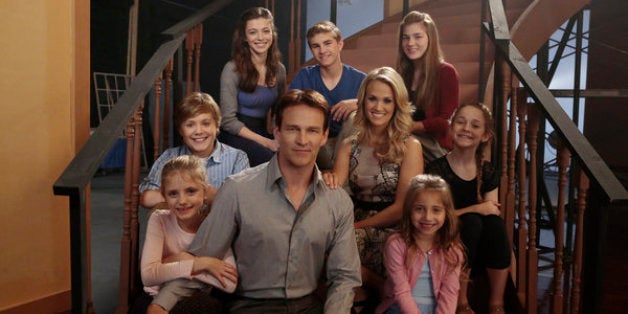 Stephen Moyer doesn't really remember the first time he saw "The Sound of Music," but since his first childhood viewing he's seen it "f--king hundreds of times."
Now the "True Blood" actor is starring in it as Captain Von Trapp in NBC's heavily-publicized televised live performance,. He'd taken his children to see the theatrical production in London and even memorized some of the script before he learned of his new role. "It's insidiously subliminal," he said over coffee and Power Bars in Midtown Manhattan. "My daughter's a bit gutted with me for not being a part of this and my son's been calling me Captain for the last month."
Now, after roughly seven weeks of rehearsal, Moyer is ready to become synonymous with the part made famous on film by one of his personal heroes, Christopher Plummer. But he and co-star Carrie Underwood, who plays Maria, are not trying to recreate the film. "We're doing the Broadway script, so there's a few things that are different about this version," he said. "It's the same version, but it's a different beast."
Instead, the cast and crew have been rehearsing as they would for a theatrical run. But the truncated schedule has allowed for the casting of what Moyer deems "Broadway divas" -- a.k.a. top notch, cream-of-the-crop actors from New York's theater community -- to be part of the live production. "I think it's the first time in the history of the production that we've got 24 nuns. It's a cast you'd never be able to get if you did it on Broadway."
When asked if he's read any of the preemptive critics he said, "Not a f--king word," which is probably for the best. "If you were doing a Broadway version of this and Carrie was doing it on stage, she wouldn't be compared to Julie Andrews."
By the time the air date rolls around, Moyer said he, Underwood and the cast will have rehearsed the thing to death. "I sometimes prefer just the rehearsals because it's when the actors get to play," he said. "It makes a difference because as an actor you get to make choices rather than making one choice when it's a short rehearsal period." Preparing for "Sound of Music Live!" has brought him back to his roots in the British theater community. "When I used to teach kids drama, I would tell them, 'There are no failures.' If I do something wrong, then that's just part of life. It's not going to make me into a bad person overnight."
But Moyer said he doesn't care what the critics will say about the show. "In a way ... If something goes wrong, it proves its live."
"The Sound of Music Live!" airs at 8 pm on NBC on Dec. 5.
Calling all HuffPost superfans!
Sign up for membership to become a founding member and help shape HuffPost's next chapter
BEFORE YOU GO
PHOTO GALLERY
"True Blood"