In the hours since authorities identified Stephen Paddock as the lone gunman behind the deadliest mass shooting in modern U.S. history, family and neighbors have described him as an unremarkable, apolitical retiree who liked to golf and gamble and had money to blow.
Esperanza Mendoza, supervisor of the Starbucks in the Virgin River Casino, told the Los Angeles Times that Paddock was known to workers because he would verbally berate his girlfriend, Marilou Danley, in front of them.
"It happened a lot," she said.
Mendoza described one encounter in which Danley asked Paddock if she could use his casino card to buy their drinks.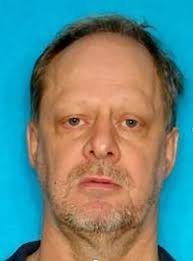 "He would glare down at her and say — with a mean attitude — 'You don't need my casino card for this. I'm paying for your drink, just like I'm paying for you.' Then she would softly say, 'OK' and step back behind him," Mendoza said. "He was so rude to her in front of us."
At least 58 people were killed and 527 others wounded on Sunday night when Paddock opened fire on the Route 91 Harvest Festival from his 32nd-floor room at the Mandalay Bay hotel. After the attack, police officers found Paddock dead of an apparent self-inflicted wound.
No apparent motive for the shooting has emerged, stumping investigators and frustrating a mourning nation eager for answers. Police don't think Stephen Paddock had a criminal record. His brother, Eric Paddock, said that he had no history of mental illness or violent behavior and that he was not religious or political.
The lack of red flags leading up to the massacre make the observations from the Starbucks employees even more compelling, for they offer us a telling glimpse at how he treated his intimate partner. Over the past few years, a number of mass killers and violent terrorists have had one striking thing in common: They practiced their abuse on family members before targeting the public.
Take Mohamed Lahouaiej Bouhlel, who drove his truck into a crowd gathered for a Bastille Day fireworks display in Nice, France, last year. He too had been accused of abusing his mother, as well as his wife.

Or Omar Mateen, the man who last year opened fire in a nightclub in Orlando, Florida, committing [what was then] the deadliest mass shooting in modern U.S. history. He also allegedly beat his former wife, and his widow ― who is facing charges related to the nightclub attack ― says he physically abused her too.

Robert Dear, the man accused of shooting up a Planned Parenthood clinic in Colorado Springs and killing three in 2015, allegedly abused multiple wives.

Esteban Santiago, the man charged with killing five unsuspecting travelers in a mass shooting at Fort Lauderdale-Hollywood International Airport in January, was previously accused of assaulting his girlfriend ― including strangling her.

James T. Hodgkinson, who opened fire on Republican politicians at a congressional baseball practice this summer and wounded five people, had been accused of strangling and beating his foster daughter.
In general, most mass shootings in the United States are related to domestic violence, according to research collected by Everytown for Gun Safety. Between 2009 and 2016, 54 percent of mass shootings ― defined as incidents where at least four people were killed, not including the perpetrator ― involved a perpetrator shooting a current or former intimate partner or family member.
Now we can't say for sure that Paddock was a habitual domestic abuser ― a few anecdotes are not necessarily proof of a pattern of behavior. And we don't have many answers yet; his two former wives have not made public statements, and his girlfriend is currently out of the country.
But this description of him verbally abusing his girlfriend does raise an important question about how Paddock treated those closest to him. So far, authorities have identified very few indications that he had a capacity for major violence.
If history is our guide, this is one clue worth paying attention to.
Language has been changed to reflect the updated death toll.
Related