Stephen Paddock, the 64-year-old retiree who sprayed bullets onto tens of thousands of Las Vegas concertgoers, spent decades amassing weapons and ammunition, police said Wednesday.
"What we know is that Stephen Paddock is a man who spent decades acquiring weapons and ammo and living a secret life, much of which will never be fully understood," Clark County Sheriff Joseph Lombardo told reporters during an evening news conference. Lombardo also said that he believed Paddock, who he referred to as "disturbed and dangerous," likely received some form of assistance.
"Do you think this was all accomplished on his own?" the sheriff asked, referencing Paddock's arsenal. "You've got to make the assumption he had to have some help at some point."
Police found 50 pounds of an explosive shooting target called Tannerite, as well as 1,600 rounds of ammunition in Paddock's car parked outside the Mandalay Bay Resort and Casino.
"It remained in the car for some reason," Lombardo said of the material.
There were "well in excess of thousands of rounds still present in the room" when Paddock was found dead from a self-inflicted gunshot, Lombardo said. Additional guns and several pounds of Tannerite were found in Paddock's home in Mesquite.
Authorities deemed Marilou Danley, Paddock's girlfriend, a "person of interest" in the investigation. They interviewed her shortly after she arrived in Los Angeles from the Philippines on Wednesday, but the FBI said she wasn't taken into federal custody.
Danley said in a statement that she was "devastated" by the attack, and had no indication Paddock had any plans to carry it out.
"He never said anything to me or took any action that I was aware of that I understood in any way to be a warning that something like this was going to happen," Danley said in the statement, read by her attorney.
The statement noted that Paddock had bought her a last-minute plane ticket to the Philippines two weeks ago, and wired her $100,000 to buy a house for herself and her family, which she thought might have been "a way of breaking up" their relationship.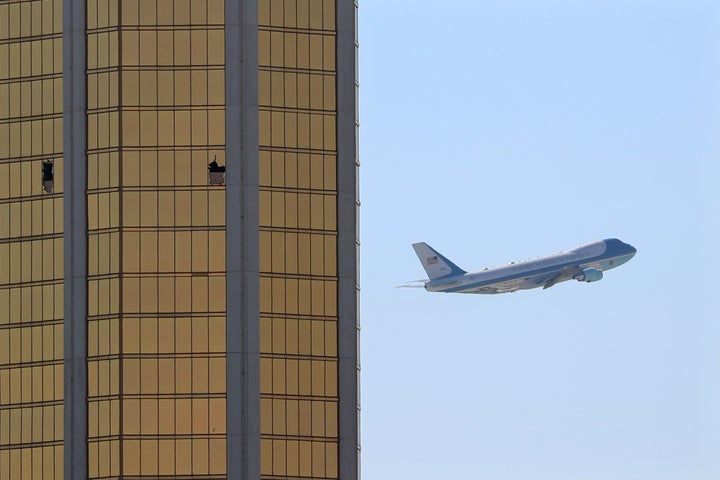 Officials are still unsure what motivated the massacre. Lombardo declined to say if investigators believed Paddock was planning a larger attack. But he suggested Paddock may have planned to flee the hotel's 32nd floor, where the gunman fired upon the Route 91 Harvest Festival.
"This is my assumption, only my assumption, and nobody has been able to dispel my assumption as of today," Lombardo said, noting several security cameras Paddock positioned outside his hotel suite and inside it. "I believe, because of his countermeasures placed in the peephole and in the hallway ... he was doing everything possible to figure out how he could escape at that point."
When asked by a reporter if there was any evidence that Paddock had planned to escape, Lombardo said simply: "Yes." He declined to elaborate.
Police found a note on a yellow piece of paper in Paddock's hotel room, but Lombardo said it wasn't a suicide note.
Investigators said earlier that Paddock had rigged security cameras to monitor activity outside his suite. Jesus Campos, an unarmed security guard who approached the door, was shot in the leg after Paddock reportedly saw him and fired more than 200 rounds into the hallway, according to The Daily Beast. The guard later radioed his colleagues, who helped authorities locate Paddock's room.
"His bravery was amazing because he remained with our officers, providing them the key pass to access the door, and actually continued to help them clear rooms until our officers demanded that he go seek medical attention," Lombardo said of Campos.
Much of Paddock's "secret" life remains a mystery to officials, Lombardo noted, but it's become clear that he spent decades acquiring his arsenal. 
Paddock also rented a room through Airbnb at Las Vegas' Ogden hotel, which overlooked the Life Is Beautiful music festival the weekend before the shooting, Lombardo said.
Investigators with the sheriff's office and the FBI, standing alongside Nevada Sen. Dean Heller (R), urged media to refrain from speculation and said the investigation would take time.
"We like to deal with facts," said Aaron Rouse, the special agent in charge for the FBI's Las Vegas division. "Theories are great and everyone can have a theory, but we need to deal with facts, the sheriff needs to deal with facts. We are reliant on that to do our jobs. That's what we will focus on."
Calling all HuffPost superfans!
Sign up for membership to become a founding member and help shape HuffPost's next chapter
BEFORE YOU GO
PHOTO GALLERY
Las Vegas Vigils