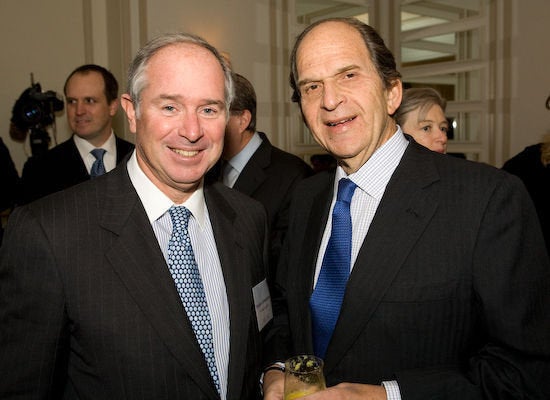 A powerful crowd turned out for Fortune's breakfast conversation with Stephen Schwarzman and Bruce Wasserstein Thursday morning at Per Se in New York. Members of the business and media elite — including Vivi Nevo, Arthur Sulzberger, Alan Patricof, John Huey, Norm Pearlstine, Tina Brown, Jeff Toobin, and Jared Kushner — joined Fortune Managing Editor Andy Serwer to hear Schwarzman and Wasserstein discuss the problems on Wall Street and how the next president can lead the US out of the current economic crisis.
Schwarzman, the co-founder and CEO of Blackstone and a prominent Republican donor, argued that the crisis was caused by too much regulation in the banking and brokerage industries. Wasserstein, the CEO of Lazard and a prominent Democratic donor, disagreed, arguing that there was "misregulation," and that lax accounting rules allowed companies to inflate the value of their assets.
"Accounting has become a new exercise in creative fiction," Wasserstein said.
When asked how Barack Obama might lead the nation out of the financial crisis if he is elected next week, Schwarzman ducked the question, saying he deferred to his "Democratic colleague."
"Under the insightful leadership of Mr. Obama, there will be a strategy," Wasserstein then said. "Which is a step up," he added to laughter.
At times Schwarzman seemed frustrated, turning red while Wasserstein spoke and telling Serwer, "I'd like to finish this, OK?" after he cut to Wasserstein. But he was lighthearted and earnest when it came to answering the morning's most memorable question — whether, knowing what he knows now, he would take back his lavish 60th birthday party, which reportedly cost over $3 million and included a performance by Rod Stewart.
"Obviously, I wouldn't have wanted to do that and become some kind of symbol of that period of time," Schwarzman said. "Who would ever wish that on themselves? No one."
"It was a great party," Wasserstein joked.
See photos from the event in the slideshow below (pictures courtesy Fortune):
Watch video from the event here (click on video that says "U.S. regulation 'clearly' broken").
REAL LIFE. REAL NEWS. REAL VOICES.
Help us tell more of the stories that matter from voices that too often remain unheard.