Stephen Shore's latest contribution to photography, titled, "The Book of Books," is a collectable two-volume set of 83 iPhoto books in chronological order, starting from his first project in 2003 and ending five years later. We're not so good at math, but at 2,300 pages, we've deduced it's a little over a dollar a page! All 250 copies of "The Book of Books" on Phaidon Press are signed and numbered by the artist and include an afterword by Jeff L. Rosenheim, Curator of Photography at the Metropolitan Museum of Art -- where the 83 books are a part of the permanent collection. In order to find out more about this project and his work, we asked Shore a few questions via e-mail. Scroll down for a slideshow of the work.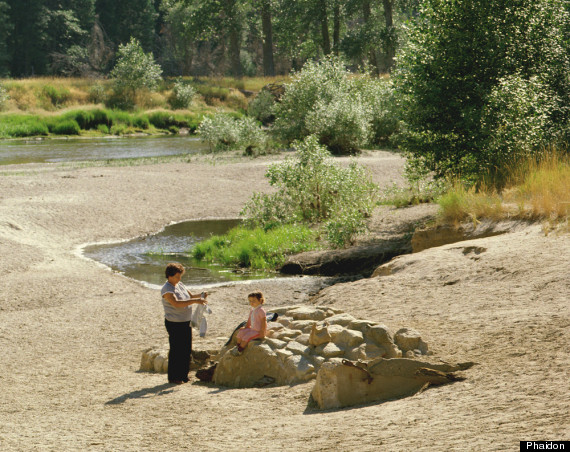 HP: How did you come up with the concept for "The Book of Books" and how did you decide to compile the images?
SS: It grew out of discussions with Amanda Renshaw, the editorial director at Phaidon. We had been thinking for some time about the best way to reproduce this body of work - the series of print-on-demand books. As for compiling the work, that was simple. There was no editing involved. The Book of Books contains all 83 of the artist books I made, reproduced in facsimile, in chronological order. The discussions began by thinking about how we could edit this body of work into a more conventional book. But each idea seemed to do an injustice to the scope of the whole project. We ended up with a book far larger than anything we conceived of when we began.
HP: How far has this project come since your 2003 show at 303 Gallery?
SS: When I showed some of the books at 303 in 2003, I had just begun this project. In this show I tried to represent several directions I could foresee the project going. I had no idea that I would continue with the book project for 5 years.
HP: What have you learned in your many years as a photographer and what challenges lie ahead for you and for the medium?
SS: The central challenge is to continue to see the world vividly.
HP: In an interview with See Saw Magazine, you say that in American Surfaces the people you photograph become "surfaces" or "cultural artefacts." Would you elaborate on this idea?
SS: I think what I was getting at was this: where in other portrait work of mine I am thinking about pictures that allude to the complexity of the person being photographed. In American Surfaces more of the images' center of gravity was the cultural aspects of the subjects, as shown through their dress, hair style, and surroundings.
HP: You seemingly have been everywhere. Is there still a place you've been yearning to capture on film?
Is this book worth the cash? See the slideshow below and let us know.
PHOTO GALLERY
Stephen Shore
REAL LIFE. REAL NEWS. REAL VOICES.
Help us tell more of the stories that matter from voices that too often remain unheard.