A homophobic robocall that claims some lawmakers' voting records led to a man entering a changing room for girls is targeting political candidates in West Virginia.
According to Victory Fund, a group that aims to help openly LGBT political candidates get elected, Delegate Stephen Skinner (D) ― who is running against Republican Patricia Rucker to represent West Virginia's 16th district ― is among those attacked by the ad. State Sen. Chris Walters (R) and state Sen. Corey Palumbo (D), who sponsored a bill to outlaw discrimination against people based on sexual orientation, were among the other candidates attacked, according to Walters.
The robocall references Skinner's vote against HB 4012, known as the Religious Freedom Restoration Act. The bill was ultimately rejected, and conservatives argued its nondiscrimination language would allow men to go into women's bathrooms.
Listen to the ad (story continues below):
The narrator depicts a 12-year-old girl and says she was paid by the Family Policy Council, a state group affiliated with the conservative Christian group Family Research Council.
"I'm only 12. I'm not old enough to see a naked man," the narrator says. "I know what a girl is, and it's not that."
The ad goes on to claim Skinner "pushed the city council to let men into our showers," because he "only cares about gay activism." The narrator also encourages voters to support Rucker, because she "has a daughter, she understands."
Skinner denounced the ad and Rucker's ties to the Family Policy Council.
"This type of gutter politics is all too familiar, but this is a new low," he told The Huffington Post.
Walters ― who said he has been targeted in an ad with the same language as the attack on Skinner ― accused the effort of "using child sexual assault as political football."
"It's absolutely a disturbing phone call," Walters told HuffPost. "It's a girl [pretending] to be 12, talking about a sexual predator-type incident and trying to infer that any one of us ― Republican or Democrat, it was a bipartsan attack ― would ever want anything like that to occur."
"Using these political ads to belittle the crime of child sexual assaults to try to sway votes is probably the most hideous and disgusting thing I've ever seen in politics," Walters added.
Allen Whitt, president Family Policy Council in West Virginia, saw no problem with the ad.
"It was awesome," he told HuffPost, adding that he didn't think the ad could be considered homophobic. "Why would any reasonable person think that?"
The West Virginia Democratic Party begged to differ, calling the ad "sickening and saddening."
"Just when you think they can't get any lower, they do. It's sickening and saddening that the Republican Party in West Virginia and their outside special interests are using hate tactics and fearful rhetoric to manipulate and confuse the people of West Virginia," said Brittni McGuire, a spokeswoman for the state's Democratic Party. "They have stooped so low as to now exploit children to do their dirty work. These actions do not represent West Virginia values and it's absolutely disgusting."
This post has been updated to reflect multiple lawmakers were targeted by the robocall.
HUFFPOST READERS: What's happening in your state or district? The Huffington Post wants to know about all the campaign ads, mailers, robocalls, candidate appearances and other interesting campaign news happening by you. Email any tips, videos, audio files or photos to scoops@huffingtonpost.com.
Before You Go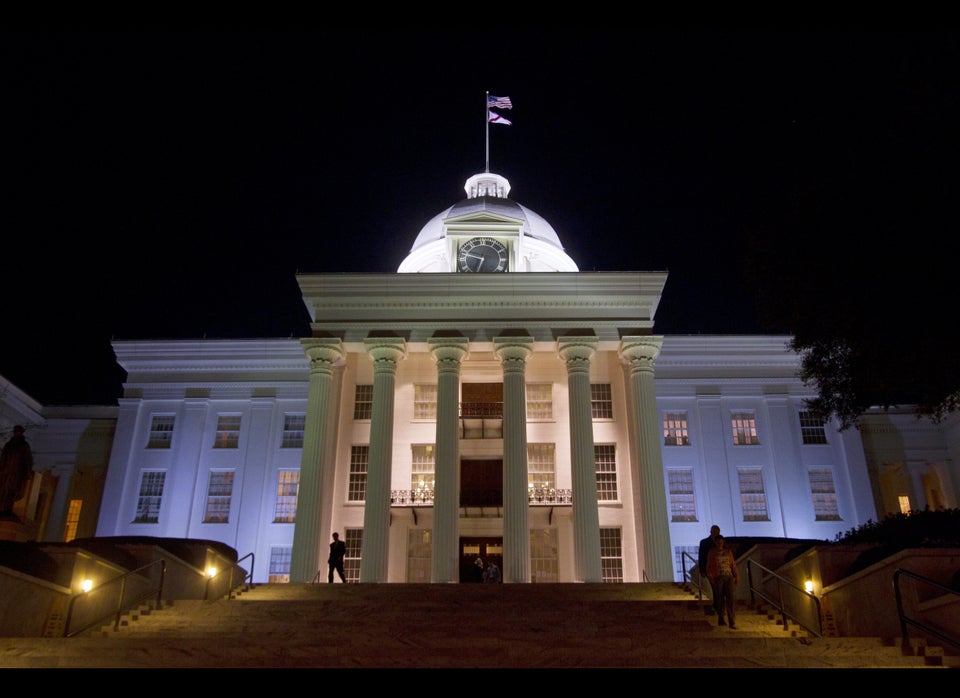 U.S. State Capitol Buildings
Popular in the Community