Stephen Somerstein is a retired physicist who spent many years working at the Harvard-Smithsonian Astrophysical Observatory. But long before he devoted his days to researching the interactions of atomic nuclei, he was an editor and photographer for New York's City College newspaper. It was then, as a university student, that he wound his way to the great Selma-to-Montgomery Civil Rights March in January 1965.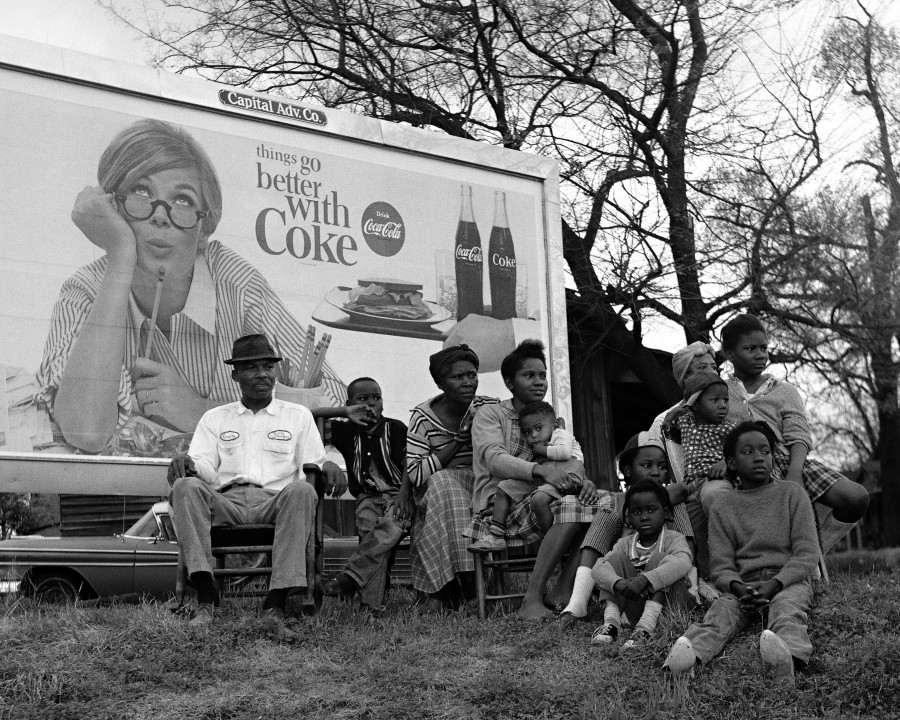 Things Go Better With Coke sign and multi-generational family watching marchers, 1965
It was a last minute decision, but Somerstein had been attentively following the events in Selma. With five cameras in tow, he traveled by bus to the South, spending five days and 54 miles photographing the marchers walking for voting rights. He captured 400 images, of both the passionate activists -- white and black -- and the dissenters lining the streets. Somerstein sold a few of his photographs to The New York Times Magazine, Public Television and several photography collectors, but none of them were exhibited until 2010, when he participated in a civil rights exhibition at the San Francisco Art Exchange.
Now, ahead of Martin Luther King Day, his images are on view at the New York Historical Society, in an exhibition called "Freedom Journey 1965: Photographs of the Selma to Montgomery March by Stephen Somerstein." We had the chance to speak with the photographer in a phone interview last week. Here's what Somerstein had to say about his once-in-a-lifetime opportunity, his love of science and art, and the future of image making in the 21st century.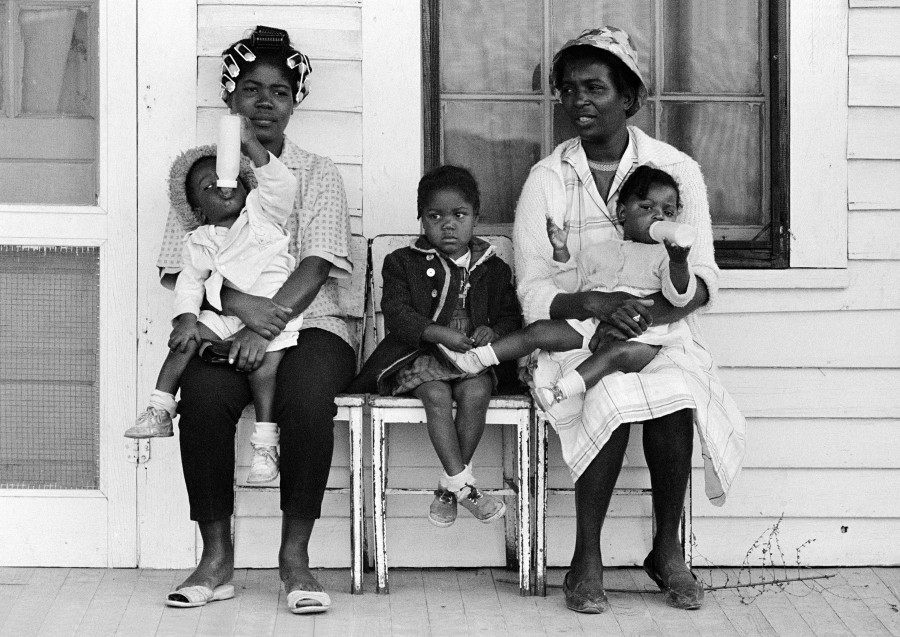 Two mothers with children watching marchers on porch, 1965
You were a student at City College in New York when you decided to attend the March. What prompted you to make the trip?
I was editor of one of the student newspapers at City College, and I was also involved in photography -- I was the president of the photography club at the university. We had been covering civil rights and watching the news at the time in Selma. We were quite aware of the issues at the stake. I remember we were watching on television what was happening when the march was attempted from Selma to Montgomery to advocate voting rights, and people were nearly beaten and pushed back by the police. It was covered by national news.
Word eventually came from Dr. King that they would be having a national march calling for students and civil rights advocates to come to Selma and march. Immediately groups were formed at the college. I consulted with my editorial staff, and we decided to send two people, and I decided I would go. This all had to be done in a very short amount of time, as I would be leaving that evening. It was a matter of me heading back home to my mother and telling her, 'By the way, I'm getting on the bus and heading to Alabama.'
I quickly loaded up on film and cameras -- I brought five cameras and as much film as I could stock up, and I headed down with my reporter to Port Authority bus. At that point, I had to decide how I was going to cover the march. I wanted to be able to stretch out my film, not knowing how much I would expend. I knew that there wouldn't be much of an opportunity to pick up film along the way, as the march would probably be guarded by federal troops. I had to be parsimonious with photography. I wanted to take significant photographs at various points on the march, of people and students both white and black. I wanted to get a sense of who the people who were -- people in the South.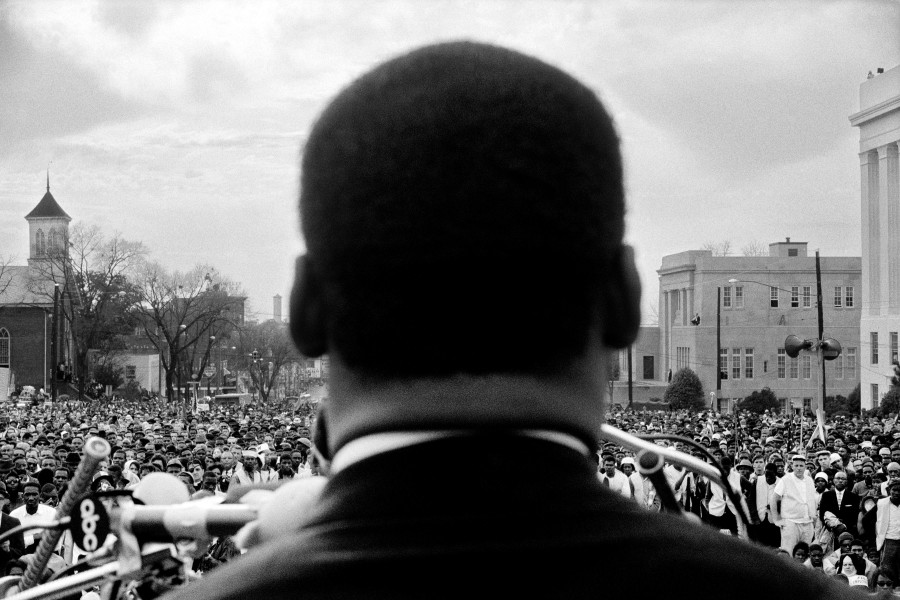 Dr. Martin Luther King, Jr. speaking to 25,000 civil rights marchers in Montgomery, 1965
Was this your first time in the South?
It was the farthest south I had been. I had gone to the 1963 march in Washington, D.C. But in '65, I remember, initially, over night, as the sun rose, we were seeing country scenes. We weren't going through cities, so we'd see fields until we got into the smaller towns. It was obviously somewhat different than what we would see up north. But as we got into the cities, the people and the scenery looked not unlike what you would see in Harlem. City College was on the periphery of Harlem, so I was used to living and working in a black community.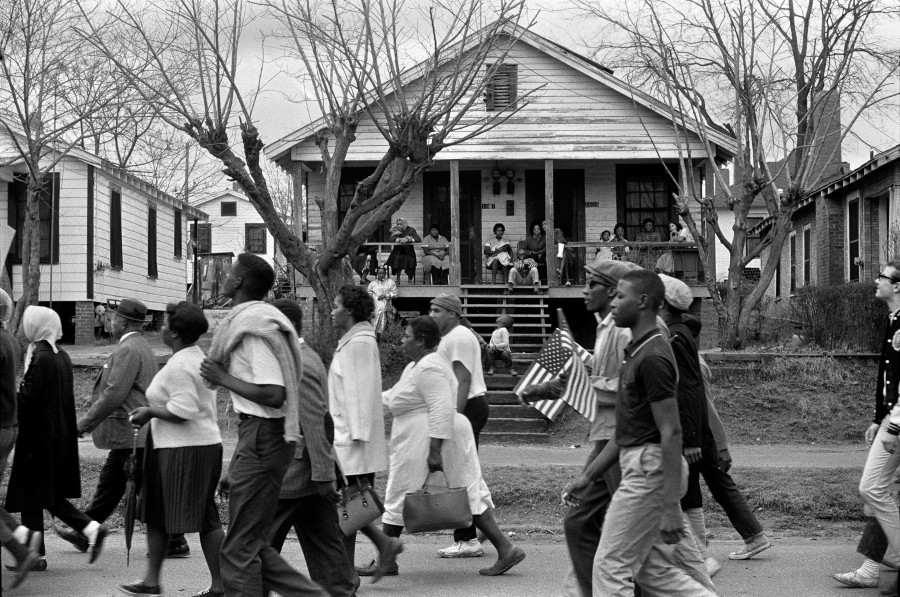 Marchers on the way to Montgomery as families watch from their porches, 1965
What were your impressions of the various people you met on the march?
I spoke to a few people. My other reporter, he was obviously the one doing most of the talking, and I was photographing. One thing, as we came closer to the city, we came upon St. Jude, a school on the outskirts of Montgomery. This is when we really started encountering local people who had joined the march. I had a conversation with an elderly black gentleman, who told me that the march was the most remarkable experience he had ever encountered. The man looked like he went through an enormous amount of history, he had this very contemplative, intelligent feel to him. We generally just made small talk about the marchers coming so far, and he told me he had encountered people from as far away as California. He was absolutely taken aback by the remarkable numbers of people who wanted to march with them.
I also had small conversations with some of the more famous figures, like James Baldwin -- small talk about the march itself and how amazing it was. I didn't concentrate deeply on conversation as I thought it would detract from photographing. My task was to capture the images and my reporter was capturing the words. I was mostly observing people, how they interacted and cooperated with each other. The imagery was far more important to me.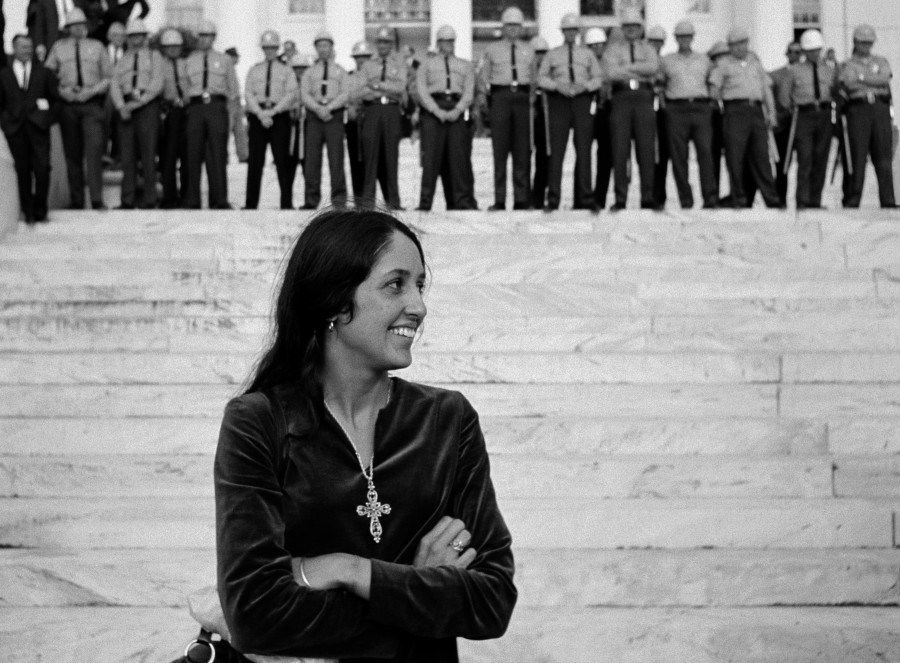 Folk singer Joan Baez in Montgomery, 1965
You mentioned that you thought quite a bit about how you would go about capturing the people on the march. What kind of strategy did you decide on?
The thing is, in trying to capture the march, you knew there were famous people at the lead. There would be time in Montgomery, I thought, to photograph them. I wanted to capture the people along the road, the local people who the march was really intended to help. Other photographers, I think, were concentrating on the march itself. I thought the people -- families and children -- were just as important, and I wanted to get a sense of who they were, and what their reactions were to the march. I wanted to get a sense that this was a historic moment. How do you embody that in an image? I thought about the framing and the composition, capturing the faces of the people themselves, capturing a true sense of my own feeling about them. That was really the difficulty.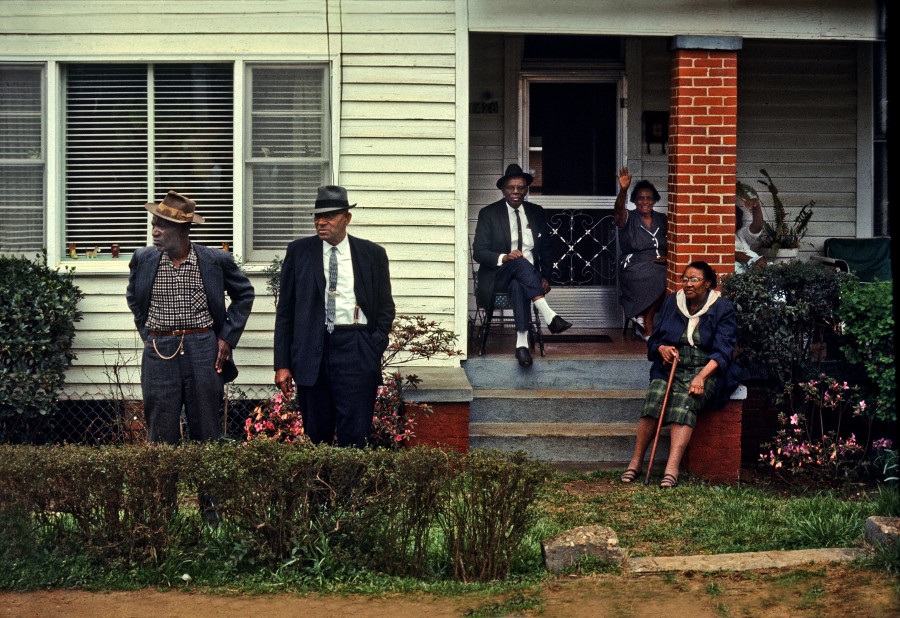 Family watching march, 1965
Did you base your strategy on any photographers who came before you?
There have always been so many heroes -- W. Eugene Smith, Alfred Eisenstaedt , Henri Cartier-Bresson. Iconic names in the field of photography. My earliest experience with documentary photography was with Lewis Hine's clothing mills and places of industry. I was taken with the beauty and composition and the power of his photography to illicit social message.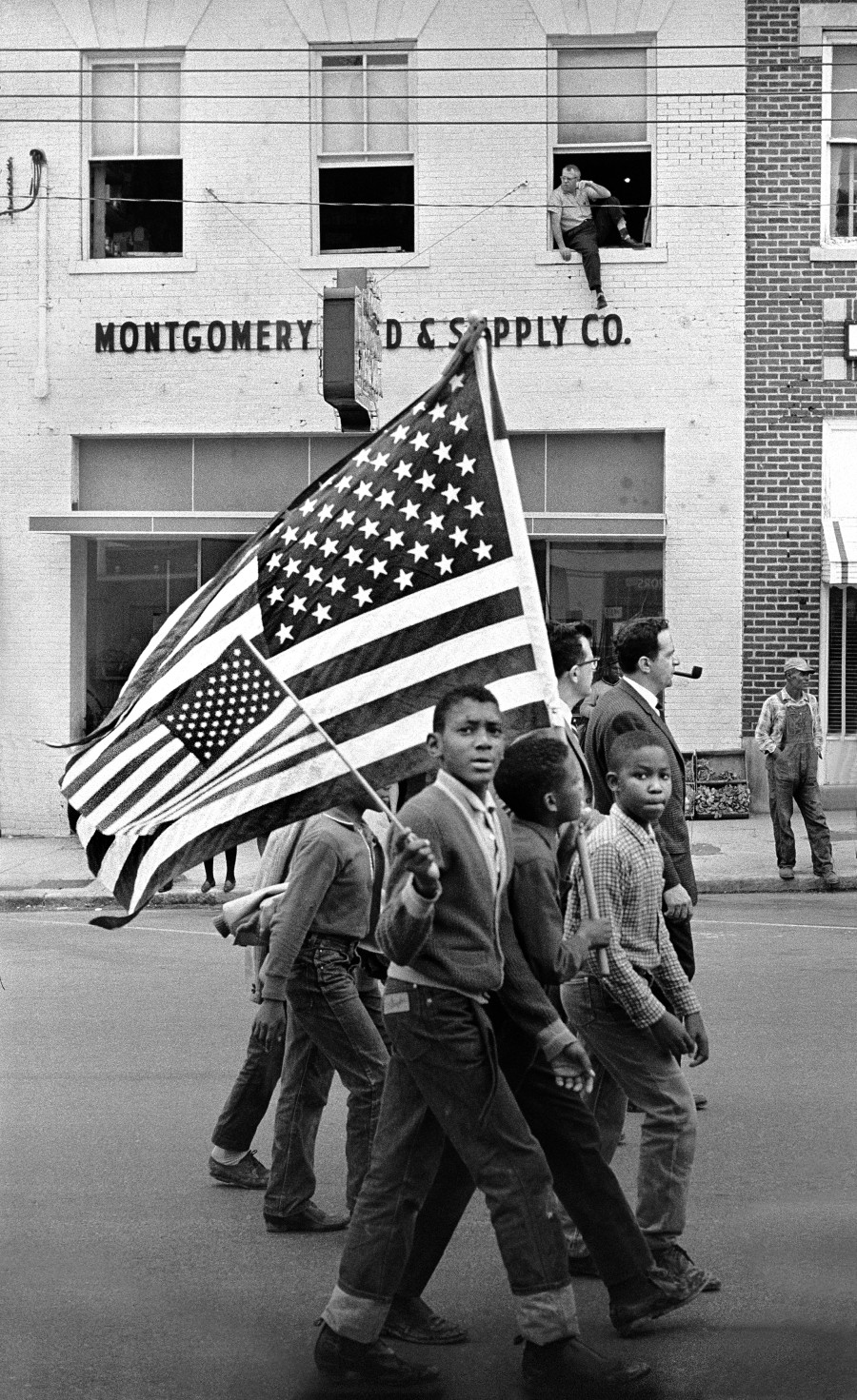 young civil rights marchers with American flags march in Montgomery, 1965
Do you see any echoes of the Selma-Montgomery March coverage in more recent protest endeavors -- such as the Millions March in NYC?
Whenever I do see a cultural event, I always run through how I might photograph it. I see the images that come out and I am constantly rewriting that imagery in mind. I don't think the images today are as iconic as I was hoping. There are decent recordings, but they are not as powerful and symbolic. And that might not be the quality of the photographers, but the editors. You can have a great photographer but you need an editor.
Rarely do I see an image that really takes off though. One that I could see at any point in the future and know what event it is depicting and what story it is telling. I am more critical of composition, and whether a picture tells a story as well.
There's also such a rush of events today. There are lesser images because time is tighter. Even when I was shooting in Alabama, there were fine photographers like Bob Adelman and Danny Lyon and each of them took fabulous shots, but they had the time to do it. It's very hard to maintain a high level of standard when you do it on a daily basis. I think that newspapers could do a lot better to seek better composition and better pictorial journalism.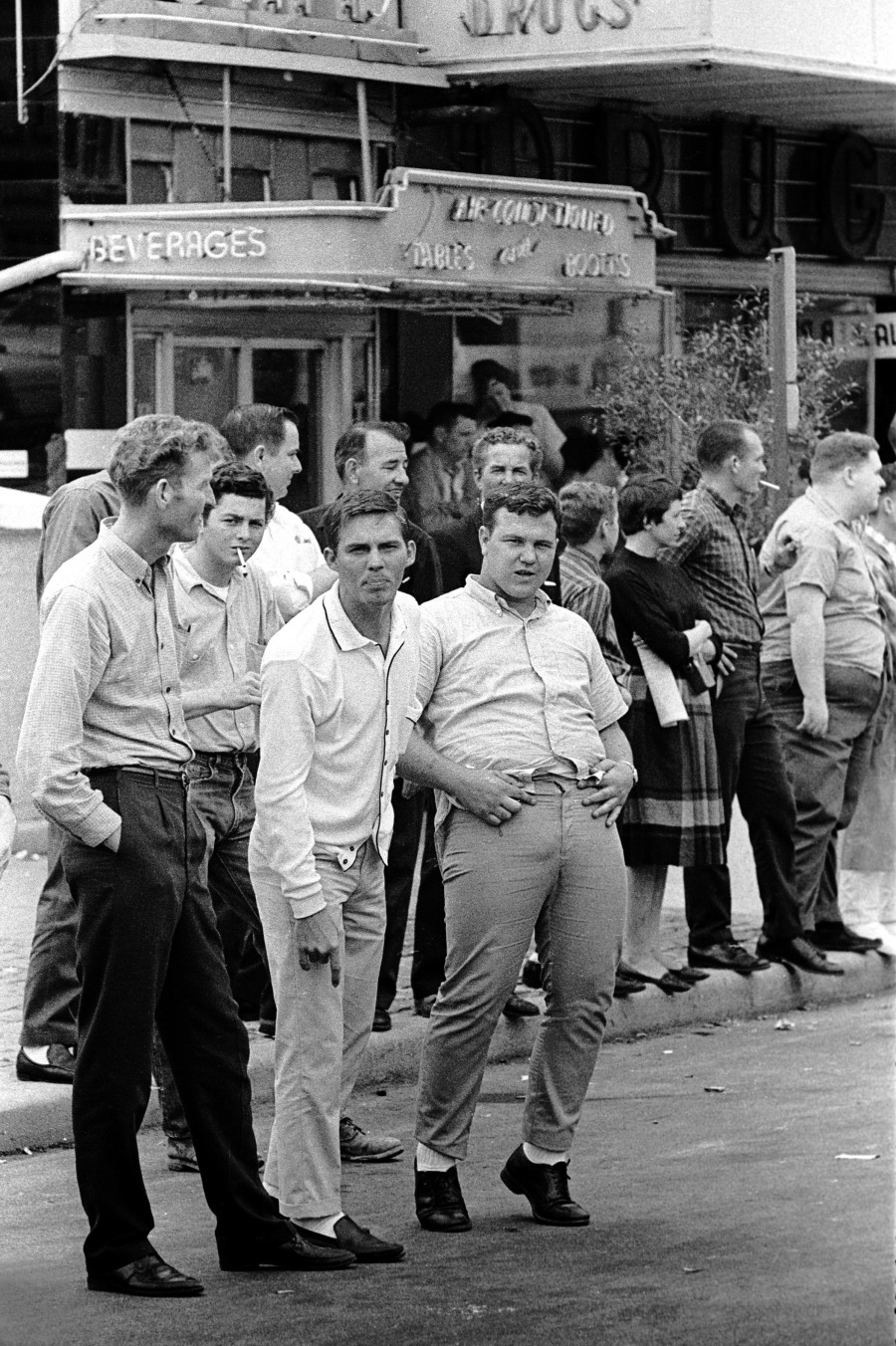 Hecklers yelling and gesturing at marchers, 1965
Besides time, why do you think the quality of imagery has changed? Do you think the availability of technology has changed who the photographer is?
Technology has probably changed things. iPhones are not bad for spontaneous shots. But the people who are there in the right time are not always there with the best composition. However, there's a camera there, in a place where there might not have been otherwise. And you get a picture that you wouldn't have had otherwise.
In the end, great photojournalists are not replicated. Today, we're essentially using crowd-sourcing to get a good shot. The Robert Cappas, they understood composition as well as newsworthiness. The general public just wants the best photograph -- that might be all the newspapers want too.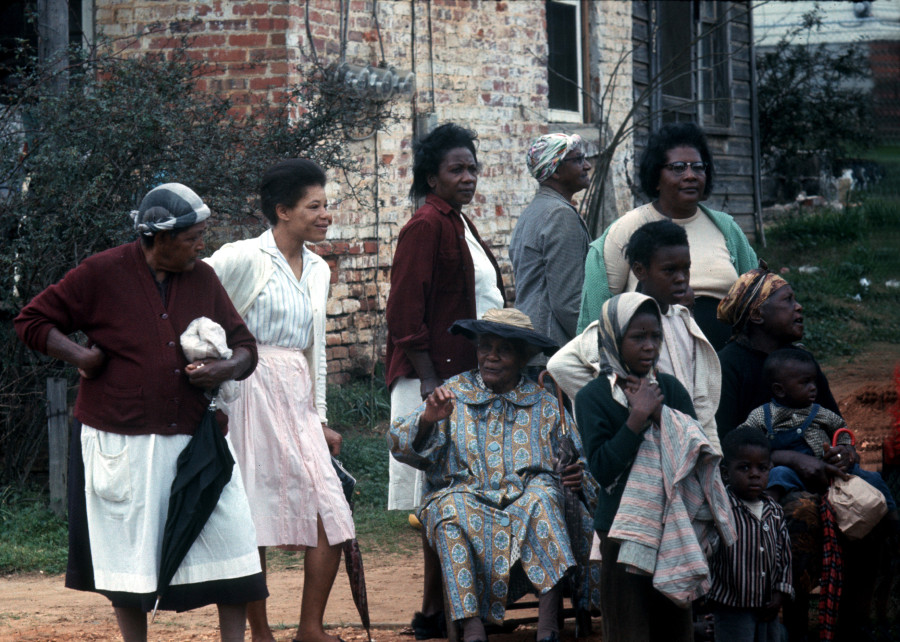 Three generations of women with children watching civil rights marchers, 1965
You sold some of your photographs, but after the March, you actually went on to pursue physics. First of all -- why the career change? And second, what made you return to photography after all these years?
I've always lived a bifurcated life. Art and photography ran parallel to my love of science and research. I built rockets when I was younger, but I was always a photographer. I belonged to astronomy clubs and built telescopes, so there was interest in both. I just existed in two different worlds. I had membership to the Museum of Modern Art when I was 11 or 12. The old museum had a members lounge on the fifth floor, and I would do homework there and then amble to take in photography. I knew many fine photographers as a youngster too. I used to go the Village camera club, where editors and writers of the photography magazines in new york would go. I would bask in their conversations, but I knew I had a goal to become a scientist. How I was going to balance this was something I thought about.
Part of the decision not to pursue photography as a profession was that Life went out of weekly publication. I thought, I'll stick with the science, because it's a more dependable career. But photography has always been the other side of my personality, no matter where I went or traveled I was always capturing photos.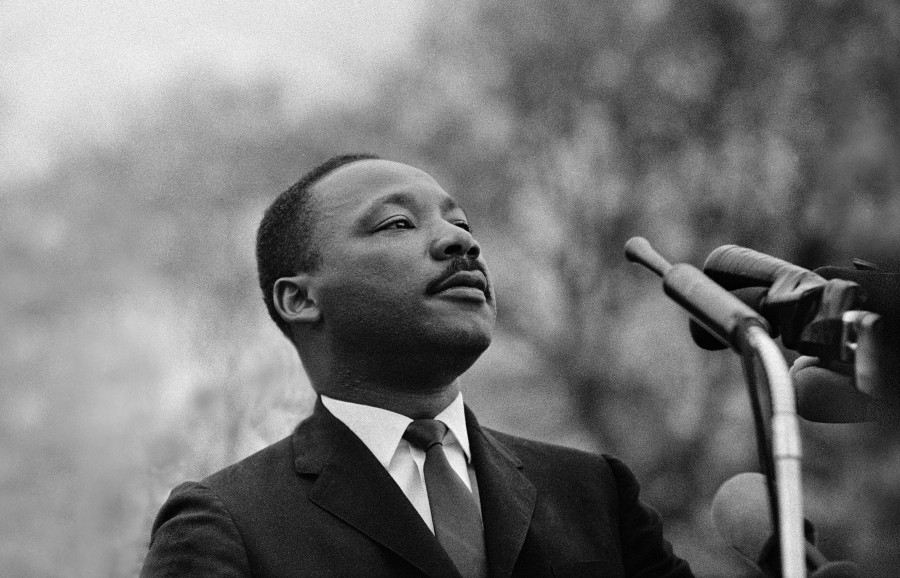 Dr. Martin Luther King, Jr. speaking to 25,000 civil rights marchers in Montgomery, 1965
Did you ever take photographs of anything related to physics or your work at the Harvard-Smithsonian Astrophysical Observatory?
After I graduated from City College, I came to Harvard. In developing all my experiments, I photographed my technology. It was all extraordinarily well documented. It was a natural extension of my personality. Through my whole career, working in nuclear physics and with satellites, I've always been a documentarian. I always saw the world through a viewfinder.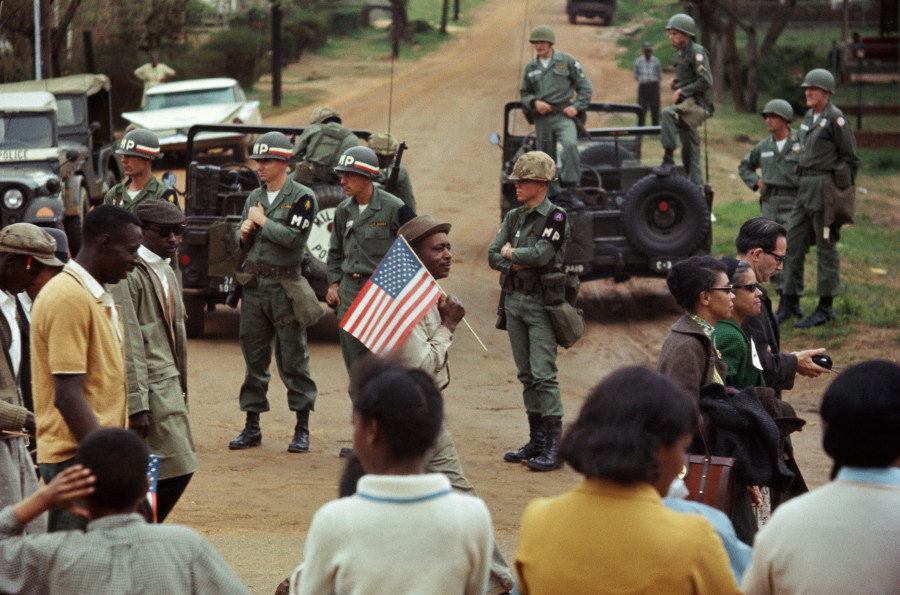 Man with American flag and marchers walking past federal troops guarding crossroads, 1965
What's next for you, in terms of photography?
There's momentum to the exhibition, and it will travel. I have an enormous collection of photographs going back 50 years, which has not really seen the light of day. I've done documentary work around the country, some in Europe. I'll have to start pulling them out my archives, and I hope that the galleries will be interested in this other work.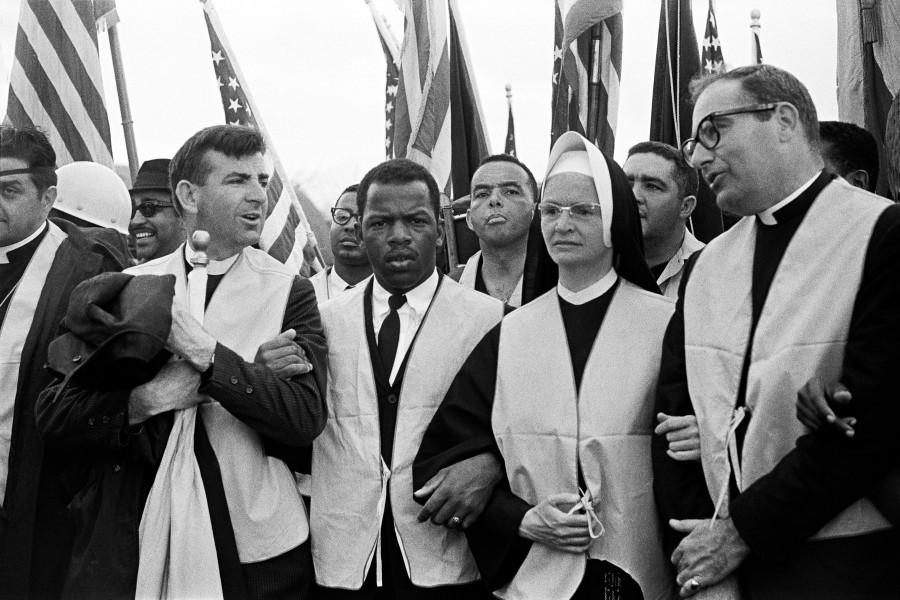 Nuns, priests, and civil rights leaders at the head of the march, 1965
"Freedom Journey 1965: Photographs of the Selma to Montgomery March by Stephen Somerstein" will be on view at the New York Historical Society from January 16 to April 19, 2015.
Calling all HuffPost superfans!
Sign up for membership to become a founding member and help shape HuffPost's next chapter
BEFORE YOU GO