SACRAMENTO, Calif. ― Hundreds of mourners gathered in California's capital on Thursday, to honor the life of 22-year-old Stephon Clark ― an unarmed black man shot and killed by police.
Two Sacramento police fatally shot Clark, a father of two, on March 18 outside of his grandparents' home after neighbors had called police to investigate someone hiding in one of their backyards. Footage from both police body cameras and helicopter coverage showed officers opening fire on Clark; they later said they mistook his cell phone for a gun. Clark was shot 20 times.
On Thursday morning, Clark's funeral in south Sacramento was held open to the public.
Long before the funeral was set to begin, mourners had already lined up down the block of the Bayside of South Sacramento Church. Some of the attendees had driven hours to attend the funeral. Many of those in line were Muslim, coming to pay their respects to a fellow member of their religious community.
In a funeral program, Clark was described as a young man who loved sports, had a "great sense of humor" and was the "life of the party."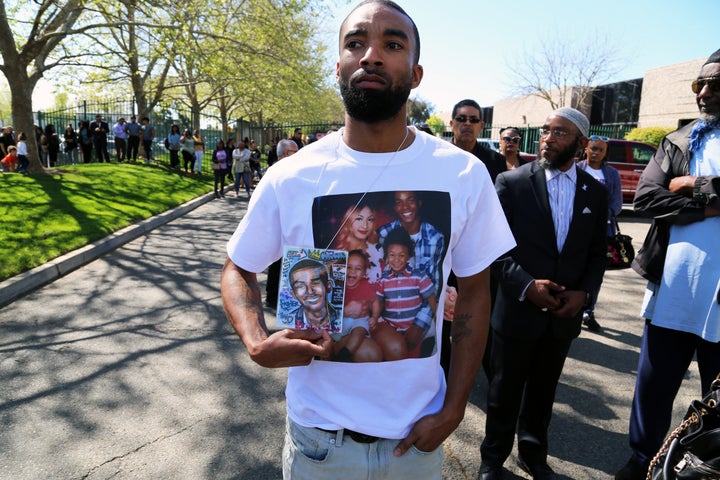 As the funeral began just before noon, several religious leaders took the podium to read from Christian scripture, the Old Testament and the Quran.
"Only Stephon could bring together all races and religions in one room," one speaker said.
At one point, a speaker was interrupted by Clark's brother Stevante, who took to the podium and in an emotional call to the crowd, yelled: "I am!"
"Stephon Clark!" the mourners yelled back.
As Rev. Al Sharpton took the stage to deliver his eulogy, he began by repeating Stevante's call: "I am!"
"We will never let you forget the name of Stephon Clark until we get justice," Sharpton said. "Because this brother could be any one of us."
Sharpton had told reporters ahead of the service that the country should think of Clark's killing as a national issue, not a local one.
"The community has come together to say that we cannot have unarmed people shot by the people we trust to protect and serve," Sharpton continued. "Look at what we've seen all over the country. The president needs to address it. Congress needs to address it."
"We need to deal with this issue and deal with it nationally," he added.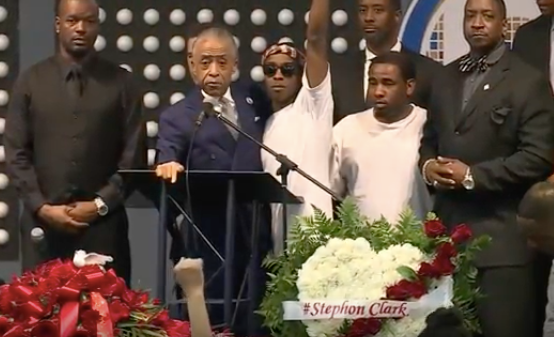 De Angelo Wilson and Ken Ken, who are both from Sacramento and attended the service, said they grew up with Clark and remembered Clark fondly as "an energetic kid."
William, a cousin of Clark's father who declined to give his last name, told HuffPost that Clark was "a good kid," but that it's hard to be perfect "when you come from where we come from."
Clark's death, one of several high-profile killings of black Sacramento men in the last two years, sparked fierce protests across California's state capital. Alongside local activists, Clark's family and friends have shut down Interstate 5, blocked entrance to Sacramento Kings games, disrupted city council meetings and demonstrated outside District Attorney Anne Marie Schubert's office.
"They didn't have to kill him like that. They didn't have to shoot him this many times," said Sequita Thompson, Clark's grandmother, on Tuesday in Sacramento.
"If you're that scared, you don't need to be a police officer," Tanya Faison, the founder of the Black Lives Matter Sacramento chapter, said while protesting outside the DA's office on Wednesday.
BLM and members of the Sacramento community are calling for the firing of the two police officers (who are currently on paid administrative leave). They also want more power and resources given to the Sacramento Community Police Review Commission, a community-led group that reviews police policy, standards, and behavior and provides feedback to the city.
Activists say Clark's shooting is indicative of excessive force used against the black community, and the continued lack of justice for victims of police violence and their families. (On Tuesday, for example, Louisiana Attorney General Jeff Landry announced that the police officers who killed Alton Sterling in the summer of 2016 would not face charges.)
The Sacramento BLM chapter is calling to change "use of force" laws practiced by the Sacramento Police Department that broadly allow police officers to whatever amount of force they deem "necessary under the circumstances." According to Faison, they are "too subjective." Other groups, like the NAACP, have also condemned the practice.
Faison and other community members are also calling to re-elect a new DA in this year's election, saying that Schubert is not doing enough work for the black community.
The incident also inspired outcry on a national scale. Protests have sprung up in other cities across the country, including New York and Phoenix. Prominent black celebrities, activists and influencers have amplified the calls for justice for Clark.
California's Department of Justice announced Tuesday that it would join the investigation into Clark's death, and also review SPD's policies and practices.
"Although we will continue to coordinate with the Sacramento Police Department, we will retain our independence as we conduct this review," California Attorney General Xavier Becerra said at a Tuesday press conference.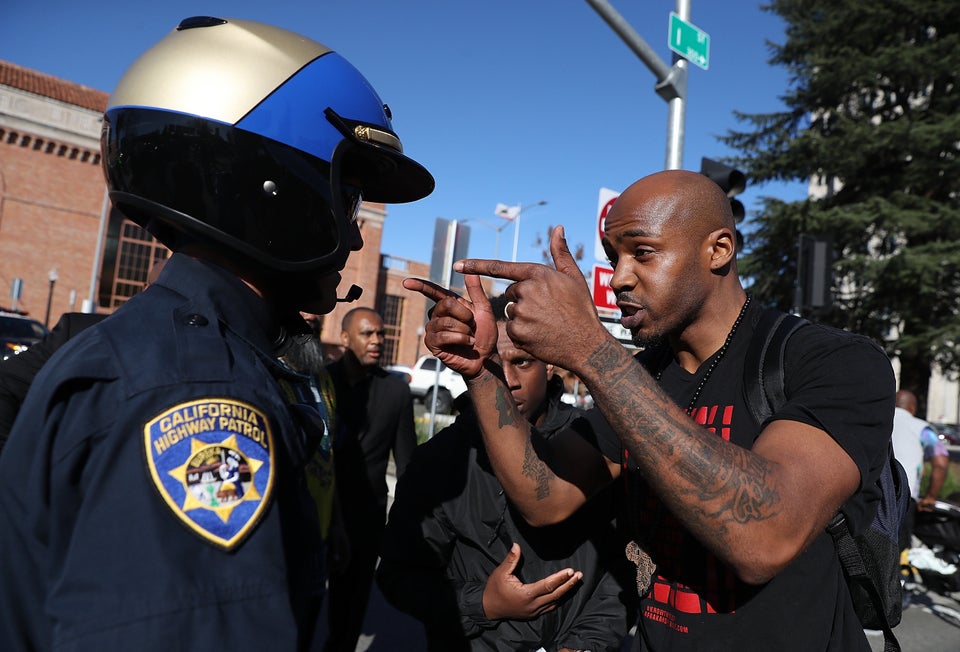 Black Lives Matter Protests After Stephon Clark's Death