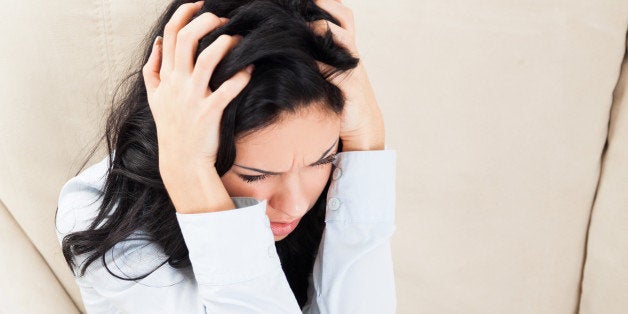 Burnout is unfortunately very common among stepmoms. It happens when your emotional (and sometimes physical) tank is on empty and you just have nothing left to give, which is why the littlest things are suddenly enough to set you off.
You know you're burned out when you're snarling about things that typically wouldn't bother you -- the kitchen cabinet left ajar, the lone sock in the hallway, the stepchild innocently asking you what's for dinner. You feel more sensitive than usual and get upset at the drop of a hat. You feel like you are doing everything. You're shuttling the kids to and from school, helping with homework and after-school activities, preparing dinner, keeping the house in order and working a full-time job. Things are feeling very unfair.
When you get to this point, the scales of responsibility are usually heavily imbalanced. You feel angry, resentful, hurt and exhausted. You're mad at everyone. In addition, your self-confidence may have plummeted because you've put all of your needs aside in order to meet everyone else's.
Most women are pretty bad at saying no because of the fear associated with it. We're afraid our partners will be mad at us for placing more responsibility on their shoulders. We're afraid of alienating the kids. We fear that our families will look down on us and that society will judge us. And on top of that, we have this false belief that other women are handling everything perfectly. We may feel like we're failing but what we really need is a break.
Most men, on the other hand, are really good at taking time for themselves. Have you noticed they make time for their hobbies and projects? And they do it without the guilt! It usually pisses us off because we don't understand the concept of putting our needs first-- we call it selfish. But in reality, we could take a lesson from them in this department.
The fact is, the more you do, the less everyone else does. So, if you think you're burned out or are on the verge of burnout, here are some steps to help you recharge.
1. Stop. The bottom line is you've taken on too much responsibility. It's time to give some of that up. Start with choosing one thing (or more if you're feeling daring) that could easily be handed over to someone else and then let your partner know you need that to happen.
2. Delegate. Take an inventory of all the household chores and who actually does them. Then reassign the chores so they're more evenly distributed. Kids of all ages can take on varying levels of responsibility, so don't let their young ages deter you from this. At the same time, be prepared for things not to get done exactly as you would do them-- and learn to be OK with that. If you live by the saying, "If you want something done right, do it yourself," you'll never recover from burnout.
A lot of stepmoms get frustrated at this point because the kids and partners don't always step up. It can take patience and a lot of self-control to not fall back into old patterns, but that's how you reached the burnout phase in the first place, so stand your ground and find a way to be comfortable with stepping away even if others are refusing to be responsible for themselves. The house may be messier, but the world won't stop spinning.
3. Communicate. Let your partner know you've reached your limit and need a break. Explain that in order to be a better wife and stepmom, you need to start taking better care of yourself and that this might mean stepping away for a bit. Reach out to friends, family, the daycare center and carpool groups for help. Start thinking outside the box in order to find help if it's not readily available to you.
4. Rediscover your passions. Everyone needs something stress free and fun to focus on. Start thinking about activities that nourish your soul and energize you. What brings you joy? What activity captivates you and brings a smile to your face? Now commit to that activity at least once a week!
5. Let go of guilt. Self-care is as important as breathing, so stop feeling guilty about making yourself a priority. Understand that when you agree (or insist) on doing everything for everyone else, you are doing them a great disservice. You're robbing your partner of the chance to step up and be a better father, and you're robbing the kids of the pride that comes with responsibility.
The happiest women are those who make time for themselves. They value themselves enough to put their well-being at the top of their priority list, knowing that it will result in them ultimately being happier wives, moms and stepmoms. They have a circle of friends with whom they communicate on a regular basis. They feel entitled to take care of themselves and engage in activities they love, so they're in the best possible shape -- physically and mentally -- to be positive, loving and willing participants in their families.
This article first appeared in the September 2014 issue of Stepmom Magazine.
Visit Jenna @ StepmomHelp.com.
Related