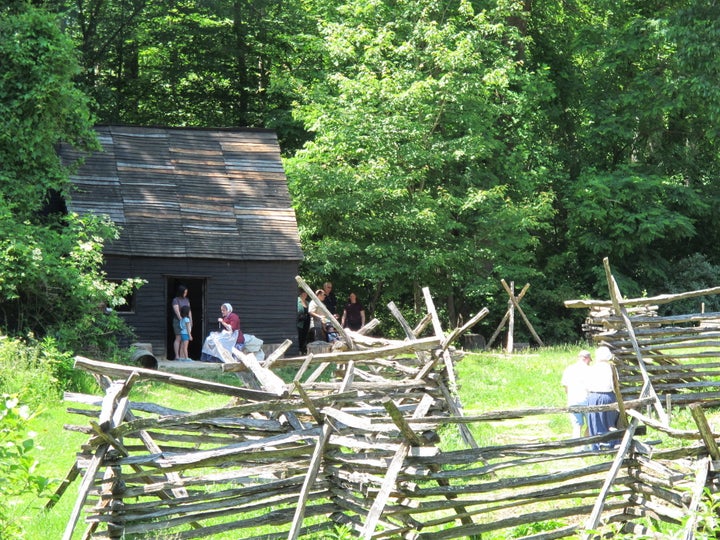 This time each year, tour buses form unending lines along the road to Mount Vernon as droves of DC tourists swing through Northern Virginia to get a glimpse of our first president's pad.
Lovely as the property is, it's not entirely representative of the era in which it was built. What about the Colonial 99 percent?
Seeing how real folks lived requires a short drive down the GW Parkway from George's house towards Claude Moore Colonial Farm,a small farmstead in McLean, Va. The farm presents a stark contrast from the stately Mount Vernon manor. The land is unkempt and forested; tobacco and flax fields take the place of manicured gardens. Hand hewn fencing keeps pigs in their pens and livestock out of the simple kitchen garden that serves the one room cabin. Costumed interpreters, posing as the Bradley family, bring to life the Fairfax County of 1771.
The farm is open to visitors from April to early December, but the best time to go is during one of its three market fair weekends. According to 18th-century law, counties had to put on two annual fairs at which people could congregate to eat, drink, make merry and sell or shop for wares. These were held in May and October; Claude Moore also holds one in July.
At the fair, surrounded by volunteers and interpreters decked out in colonial garb, visitors are immersed in the world of 1771. Like a retro version of today's farmers' and artisans' markets, the fair is a place to shop from stalls offering handmade furniture, herbal scented soaps, period clothing, plants and pewter wares. It's also a time to mingle over a lunch of crisp-skinned spit-roasted chicken washed down with a beer from the tavern while the kids run off their energy or stare bug-eyed at fire breathers.
During the crowded DC summers, it's hard to argue with getting out of the museums and kicking back for a few hours under a shady oak canopy. And, at $6 per adult and $3 per child ($3 and $2 on non-fair days), it's a bargain.
Leaves me wondering if George ever made an appearance back in the day.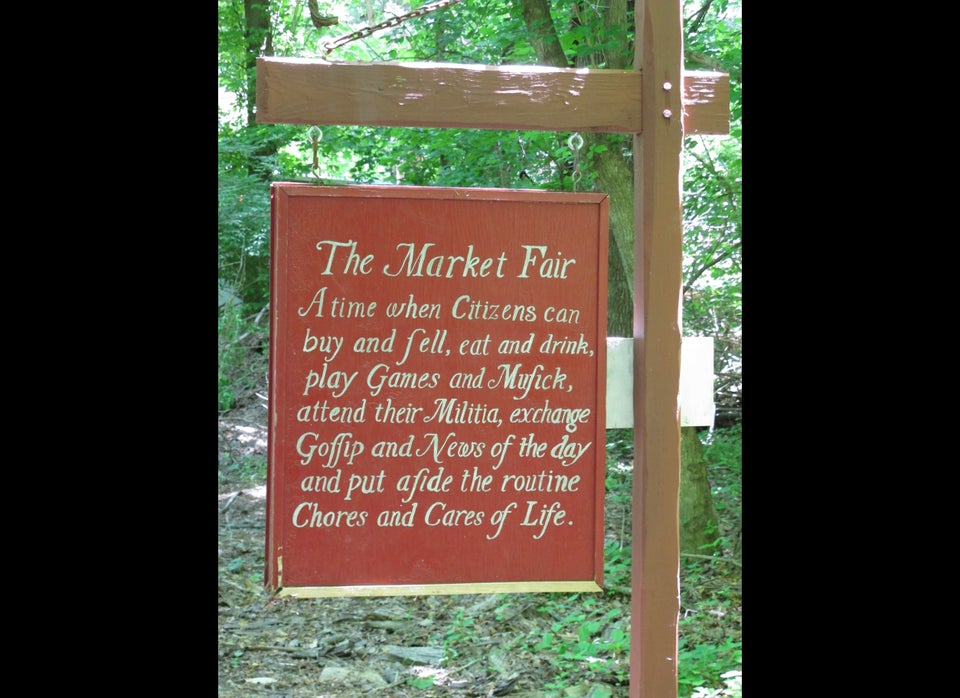 Visiting A Colonial Market Fair