"If you have a soapbox, stand on it, and scream!" Chelsea Handler closed the first session of the +SocialGood Summit on Sunday with this memorable quote. And the rise of digital media has given everyone a soapbox, but we must be able to wield these screams from soapboxes.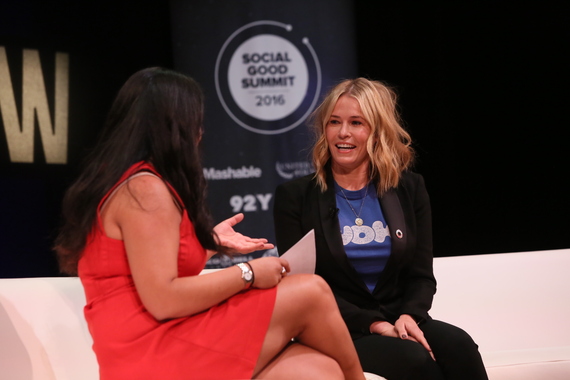 During a recent interview, my good friend and interviewee Sarah Gulley she shared an Aristotle quote with me: "to avoid criticism say nothing, do nothing, be nothing." And I think so often, particularly within our roles as content creators and consumers, we either say nothing or if we do speak up, do so within our bubbled communities.
Standing on your soapbox in our polarizing socio-political climate can be frightening. I have candidly spoken with friends who are surprised when their feeds have content that doesn't align with their personal views. Aristotle's quote from ancient Greece is particularly amplified on the digital platform: if you say or do anything digitally it follows you regardless. And as you elevate your voice and cause, those who do not agree will criticize- and generally in not very productive ways.
We have lost the ability to agree and to look outside our localized points of view. Many have argued that the rise of digital media has been the great equalizer, connector, and a powerful tool to give power and agency to thousands more people. This is true except that we have bubbled ourselves in to only hear it back.
I do it too- as an advocate for global girls I have gotten the opportunity to work with and meet other girl advocates. I have taken these experiences and tweeted about them, written about them, and even solicited friends and family for donations via social media for the cause I care about. I know that there are people in the world who do not value girls, who marry girls off before they have reached puberty, who still practice female genital mutilation, who still believe we are less than. I know these stats, and it fuels me to work harder and be a better advocate for girls. But if you look at people who I follow on Twitter, overwhelmingly it is other girl organizations who do similar work, and believe in the same causes. I have never received a negative response to a tweet that advocates for girls getting birth certificates or getting to school without being subject to violence. While I like to think that most people are good and truly take no issue with girls receiving a secondary education or birth certificate, I can't help but feel like I am in an echo chamber.
So as I meditate on Chelsea Handler's comments to scream on my soapbox, I think about the impact of my content creation. When I tweet more am I just creating more noise in an already noisy arena? Does anyone really care? And how does caring translate into action? While many don't oppose women's equality and the rights of global girls, we also don't have the funds and support of every person. While the idea of slactivism is a myth: people who first engage with an issue via social media are more likely to take action, rather than less likely to take action, we still are not rallying the support we need to be.
As our social networks digitalize and we create increasing amounts of content we must aim to create productive discourse by not being afraid to push back. Trolling on Twitter and being a social media bully is different from questioning an opinion, yet in 140 characters we lose the ability to convey messages empathetically. If we are constantly screaming we forget to listen, so let's step down from our soapboxes for a second and have meaningful discussions; and then we can collectively scream from our soapboxes together. And when we face backlash, we will have the tools and perspective to turn it into positive problem-solving and resolution.
Related
Popular in the Community