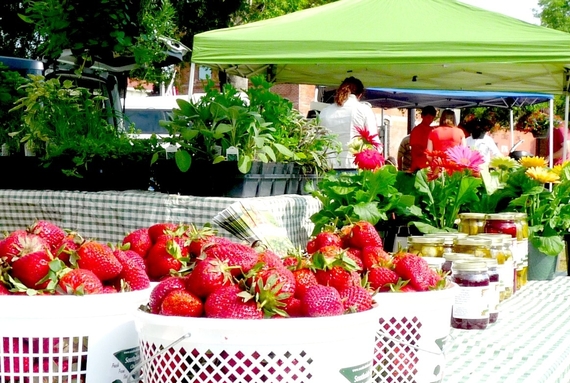 Spring has finally sprung! March 20th marked the first day of spring. Of course depending on where you live, maybe Mother Nature hasn't gotten the memo yet. Much of the U.S. is still covered in snow. But I'm celebrating the start of spring and (hopeful) return to sunshine!
As a chef, spring is one of my favorite seasons. The earth is coming back to life. You can cook with everything from fragrant cherry blossoms, to ruby red strawberries, and even fiddlehead ferns. Look for these fruits and vegetables at the market in the upcoming months, for the best flavor (and value).
Apricots -- Apricots are the first stone fruit to come into season. Aside from being rich in vitamins A and E, they are also versatile. Try grilling apricots and serving them with honey-mustard glazed pork chops. Apricots are also a wonderful accompaniment to cheeses (think Chèvre or Brie) and a great addition to salads. For a simple dessert, try poaching apricots in some Sauternes and serving them with mascarpone and amoretti cookies.
Artichokes -- Artichokes always make me think of spring in Greece, and my grandmother's cooking. For a Mediterranean twist, try cooking the artichokes (cleaned and halved) slowly in a pot with onions, tomato, fresh dill and peas.
Peas -- Speaking of peas, markets will soon be bursting with pods of the fresh green legumes. Try shelling and blanching the peas. Toss them into a salad with cucumber, fresh mint, spring onions, olive oil and lemon zest. It makes the perfect springtime salad.
Asparagus -- When I see asparagus at the farmers' market I know I can tuck away my bulky winter jackets and start pulling out my swimsuits. For a simple meal, lightly boil the asparagus. Top the cooked asparagus with a poached egg (or chopped hard-boiled egg), anchovy vinaigrette, and a sprinkle of bread crumbs.
Mango -- Spring also marks the start of mango season. If heading to Hawaii for mangos isn't feasible, trying bringing the flavors of the islands to you! Make a beta carotene rich smoothie by blending a cup of diced mango, some carrot juice, Greek yogurt, and a splash of lime juice. It's the perfect tropical (not to mention nutritious) drink.
Strawberries - In the 1400s, strawberries, and the strawberry plant, were used to treat depressive illnesses. After all, how could anyone feel blue when the air is fragrant with the scent of strawberries? So if the unseemly long winter has gotten you down, try ringing in the start of spring by buying a basket of strawberries. You can layer the berries with Greek yogurt and granola for a tasty breakfast parfait, or make a colorful and antioxidant rich salad. For a strawberry salad, toss pieces of strawberries with spinach, balsamic vinaigrette, and fresh ground black pepper.
Rhubarb - Now that spring is here there's another versatile vegetable coming into season, rhubarb. Although technically a vegetable, rhubarb is often eaten as a fruit. It's 95 percent water and has only 26 calories per cup. It's rich in vitamin C and potassium, making it a great ingredient for guilt free treats. Try cooking the rhubarb with some sugar or agave and fresh vanilla bean to make a nice compote for dolloping on toast or waffles. For dessert, use the rhubarb to make a pie or a warm rhubarb crisp.
To help you transition into spring I'm including a recipe for my warm rhubarb and pine nut crisp from my cookbook Sweet & Skinny. It will warm your kitchen and satisfy your souls; as the final layers of winter begin to melt away.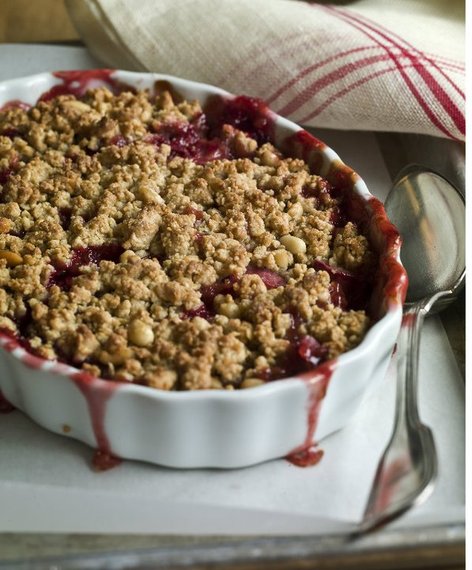 Rhubarb Crisp with a Pine Nut Streusel Topping
1/4 cup (1/2 stick) unsalted butter, cold
1 1/2 ounces (3 tablespoons) reduced-fat cream cheese, cold
3/4 cup all-purpose flour
1/3 cup (packed) dark brown sugar
2 tablespoons pine nuts
1 teaspoon pure vanilla extract
1 teaspoon finely grated lemon zest
1/4 teaspoon ground cinnamon
1/4 teaspoon ground ginger
1/4 teaspoon ground nutmeg
1/4 teaspoon salt
1/2 cup granulated sugar
2 tablespoons all-purpose flour
1/8 teaspoon ground cinnamon
10 ounces rhubarb, cut into 1/2-inch pieces (about 3 cups)
To make the topping: Cut the butter and cream cheese into 1/4-inch cubes, place on a baking sheet and freeze until they are very firm but not frozen solid, about 20 minutes.
Using a standing mixer and the paddle attachment, mix the flour, brown sugar, pine nuts, vanilla, lemon zest, cinnamon, ginger, nutmeg, and salt on medium-low just to combine. Add the chilled butter and cream cheese on medium until they are in small, pebble-size pieces. (Alternatively, stir everything except the butter and cream cheese together in a bowl and cut in the butter and cream cheese with a pastry cutter or two forks.)
Freeze the topping mixture for 15 minutes.
About 20 minutes before baking, preheat the oven to 375F. with a rack in the center position.
To make the filling: In a medium bowl, stir together the sugar, flour, and cinnamon. Add the rhubarb and toss until it is evenly coated.
Divide the filling evenly among six 6-ounce ramekins or custard cups. Top each with one-third cup of topping. Bake until the topping is golden and the rhubarb is bubbling, about 25 minutes.