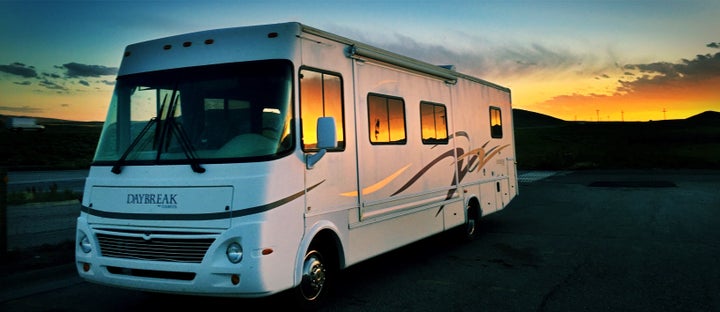 My second stop on the road to Philadelphia was San Francisco. A town synonymous with revolution and liberal ideals. A place where people have fought to be exactly who they wanted to be. For a long time, as an active drug user I felt I had to hide from the world ― ashamed of the hellish cycle I was caught in. Ironically, when I began living in recovery that sense of shame didn't disappear. I still felt I had to keep that part of my life a secret. With the negative perceptions surrounding addiction so deeply ingrained, even without drugs I still carried a profound sense of shame and secrecy.
When I decided to begin facing addiction out loud and come out as a person in recovery, I experienced an extraordinary feeling of freedom. I felt a deep pride and empowerment, seeing myself (rightly) as a person who is surviving a life-threatening illness. We must end the stigma and begin to create an openness around recovery.
It was only about six months ago that I decided to tell people I am a person in recovery. I had just celebrated one year of abstinence from alcohol and other drugs. I was terrified. Other than family, close friends, and my own recovery community, I was extremely careful choosing who I would share my story with. Living in shame for so long, I certainly wasn't ever going to write a Huffington Post blog about it, let alone run for delegate to a national party convention as a person proud to be in long-term recovery.
After losing four close friends in a very short period of time due to fatal drug overdoses, the epidemic stared me dead straight in the face. I didn't understand why we weren't screaming from the hilltops in outrage and demanding solutions from every angle possible. And then it hit me like a ton of bricks. How could we ever affect change if people didn't know us? There are over 23 million Americans living in long-term recovery, people just like me. That's a big number. And each and every one of our recovery stories has power. We're in every community in every state. We raise families, pay taxes, run major corporations, and even run for delegates to national party conventions.
When I finally mustered up the bravery to disregard the social stigma and stand up not just for myself, but for the friends I'd lost and my recovery community, I found my way to meeting some other really great people who had also chosen to recover out loud. And they were talking about it in a very big way. They were organizing. And I felt inspired. Something underneath the surface was happening and I realized I wasn't the only one. This emerging grass-roots effort included not just those in recovery, but their families, friends, co-workers, and countless allies. Tens of thousands showing up on the National Mall to end the silence around addiction and organize their communities from the ground up. The word movement was being used…and this was something that excited me.
Engaged with like-minded people, not only did I understand more than ever that silence equals death, I also understood that I had a responsibility to recover out loud and let my community know what that looks like. When I made that decision just a few months ago, I didn't expect my recovery community in Pasadena, California to follow me. But they did. Over 70 of them stepped out of the shadows and said "me too." And as a result, we're driving across America to bring truth through the power of their stories and the stories of those we meet along the way.
Arriving in San Francisco, I couldn't help but think of the gay rights movement and the advances that have been made over the past 20 years because a group of people got together and said enough is enough: we're going to step out and let America know who we are. And as a result, our country is a better, more tolerant place. That's exactly what needs to happen when it comes to facing addiction in America.
Please take six minutes of your day today to watch part 2 of our Facing Addiction Across America docu-series, Out of the Shadows. See some of the extraordinary stories and bravery that are coming from San Francisco, California. Join me on this journey and help put an end to the stigma and OPEN recovery so that we can put an end to this public health crisis once and for all.
History has long taught us that meaningful change comes when people band together, step out of the shadows, and organize. Small efforts become larger-than-life movements when the cause is right and the mission is the truth. This is our time. This issue needs a powerful, unified movement, and we must embrace every second of it loudly. Who knows, maybe in 40 years I'll be telling my grandchildren about a time in American history where we used to incarcerate and stigmatize people for having a health problem.
Calling all HuffPost superfans!
Sign up for membership to become a founding member and help shape HuffPost's next chapter