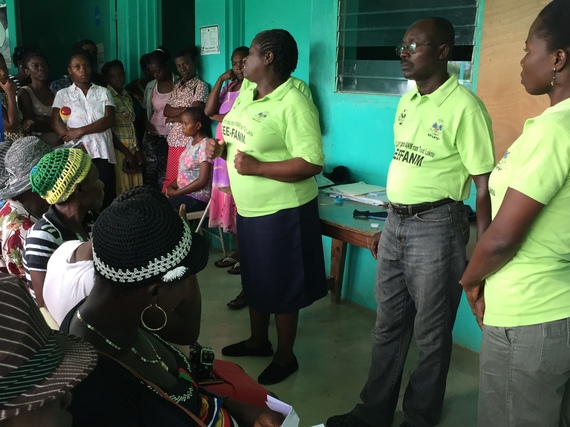 Things got off to a slower-than-usual start one hot morning in June, at the Alyans Sante Borgne (ASB) Women's Health mobile clinic in Tibouk, a tiny riverside market town in northernmost Haiti. After a night of heavy rains, many of the women, some with children or infants in tow, walked up to five hours over steep, muddy trails just to get there from their remote mountain homes. Despite the exhausting trek, they arrived in clean dresses and festive bonnets, seemingly dressed for the occasion of receiving quality attention and care.
The women filed onto the clinic's packed veranda as ASB nurses and community health workers explained the array of services available to them, from pre-natal visits and cervical cancer screenings, to individual medical or family planning consultations, to testing for HIV/AIDS, TB and syphilis. They then headed off to the prenatal or cervical screening clinic or to their individual consultations.
The ASB is a partnership of the non-profit Haiti Outreach -- Pwoje Espwa (H.O.P.E.) and the Ministry of Health of the Government of Haiti. Supporting partners include the American Red Cross, the United States President's Emergency Program for AIDS Relief (PEPFAR) and our own NGO, WomenStrong International (WSI). Before H.O.P.E., there was no women's clinic; indeed, there was no clinic at all, nor was there a functioning hospital in Borgne, a faded seaside, still-electricity-less town of some 7,000 fishermen, street vendors and their children.
Change comes slowly to northern Haiti; evidence of government is spare to non-existent. An already impoverished region was further isolated by governing elites resentful of the strong indigenous peasant movement, which demonstrated its staying power by mobilizing fierce opposition to the decades of the Duvalier regimes. The administrative backlash was brutal: with few exceptions, the sprawling rural commune of Borgne seems all but abandoned, its seat of government, the city of Borgne, the town that time forgot.
Now, with new support from WSI, H.O.P.E. and ASB have opened the first-ever operating room (OR) in the Borgne hospital -- meaning that expectant mothers in a high-risk pregnancy or difficult labor will no longer be carted for up to 10 hours on the backs of donkeys or strapping youths, only to be told that they now must be trucked another two hours to the nearest facility able to deliver by emergency cesarean section. With the new OR, and with the support of a fulltime obstetrician-gynecologist, the women can now deliver by emergency C-section right there at the ASB hospital in Borgne, where husbands and children can visit and where they will receive invaluable guidance on newborn and infant care, nutrition and hygiene.
Women across the commune were so excited about H.O.P.E.'s new Operating Room - hundreds of community members joined together to make the ribbon-cutting a real celebration, of life and survival. We all felt so proud, and so relieved, about this simple, life-saving intervention, which fills a lethal gap in the continuum of reproductive health care, all the way from the extended family to the tertiary care center in Cap Haitien, so many hours away. Now the women of Borgne will at least be able to enjoy their full reproductive rights and the knowledge that they can deliver their babies safely and without pain, just like their American sisters to the north.
But immediately upon my return to American soil, I saw that the Republican-led House Appropriations Sub-Committee on Labor, Health and Human Services, Education and Related Agencies had just proposed to zero out about $300 million in Title X funding from a 2016 spending bill, making it impossible for poor American women to have access to the cancer screenings, family planning services, STD testing, teen pregnancy prevention and sex education programs that H.O.P.E.'s female patients now receive.
Yes, that's right: in this latest showcase of GOP family values, the House Sub-Committee is seeking to deprive America's most vulnerable women and families of the same care we have just now made available to Haiti's poorest. Planned Parenthood - the explicit target of this proposed cut, ostensibly for its support for abortion, although abortion funding is prohibited under Title X - estimates that this move could leave 4.6 million people without care.
Could this be what the House leadership means, with its mantra of "smaller government?" And what does the leadership propose to do when, without proper education, planning, or reliable incomes, countless more children are born to mothers unable to care for them, and countless more youths are growing up without proper parenting, housing, education, and job training? And how will the leadership (by then, it will be our children's Congressional leaders) wrestle with the spiraling expenditures on emergency rooms, police and fire departments, and prisons and jails?
Family values, indeed. Odd, isn't it, how neglect by an impoverished, corrupt and chaotic Caribbean government can so resemble the presumptuous, moralizing overreach of a superpower, in their common disregard for their own most vulnerable citizens?
Support HuffPost
The Stakes Have Never Been Higher
Related
Popular in the Community