This piece is written by Ambassador Russell and Assistant Secretary of State for the Bureau of International Narcotics and Law Enforcement Affairs William R. Brownfield.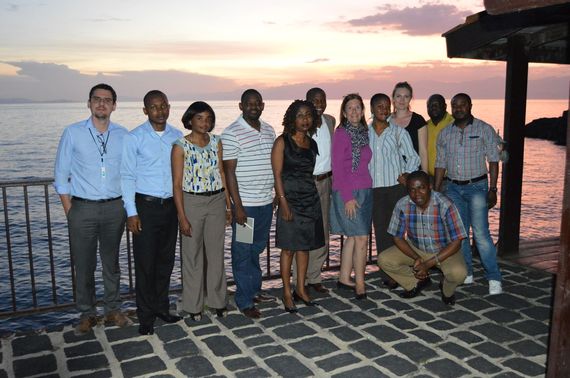 State Department staff stand with lawyers working in the Democratic Republic of Congo in December 2014.
After being violently raped by her neighbor in the Democratic Republic of Congo (DRC), Marie* didn't think she had many options. She was only 14 years old, and the rapist was a powerful person who would likely be immune from justice.
He and his family continued to threaten Marie, and she considered ending her own life. Instead, she turned to a U.S.-funded legal clinic run by the American Bar Association's Rule of Law Initiative, where survivors of sexual and gender-based violence are given legal aid and psychological support.
Marie received counseling to help her cope with the trauma of the rape. With the clinic's assistance, she pressed charges against her neighbor, moving forward even after the state prosecutor requested the matter be resolved "outside the courts." The perpetrator was put on trial and found guilty.
More of this kind of justice is desperately needed in countries and communities plagued with conflict, lawlessness, and sexual and gender-based violence. Often women and girls are the targets of rape, sexual slavery, and human trafficking, but boys and men can also be victims.
It is hard to overstate the long-term impact this type of violence wreaks on both individuals and communities. The individual survivors of sexual and gender-based violence, no matter who they are, are physically and emotionally scarred in traumatic ways that can last a lifetime.
The impact on entire communities is palpable. In the words of Dr. Denis Mukwege, who cares for survivors of sexual violence in the DRC, "a mother does not feel like a mother after she has been raped in front of her children. A father who watches the rape of his daughters or wife has the impression, 'I am not at all a father. I'm not a husband. I could not protect them.'"
These crimes destroy the social fabric of a community and perpetuate conflict. It is imperative for communities to develop the institutional capacity to bring perpetrators of sexual and gender-based violence to justice so that individuals and their communities can begin to recover.
That is the core of the Accountability Initiative introduced by Secretary of State John Kerry in 2014 at the Global Summit to End Sexual Violence in Conflict in London -- to help bring justice to survivors and to build the capacity of justice systems to effectively address this societal ill in conflict-affected countries in Africa.
Today, the Accountability Initiative is strengthening the promise of justice in the Central African Republic (CAR), the DRC, and Liberia. In the DRC, the State Department is building on the momentum of President Kabila's recent appointment of a special advisor on sexual violence and on successful global investments in sexual and gender-based violence programming -- such as the U.S.-funded project that helped Marie -- by improving criminal case documentation and management processes in the eastern provinces.
In CAR, the State Department is training justice sector actors so they can better recognize and respond to sexual and gender-based violence. In addition, community-based paralegals are educating target communities about legal rights and available services. These efforts reached more than 5,000 people last year alone.
In Liberia, the State Department's approach involves victim support and public outreach, combined with judicial reform, to transform systems that today perpetuate sexual and gender-based violence. We are working with the Liberian judiciary to enhance the efficiency and transparency of the criminal court that handles sexual and gender-based violence cases to support survivors and to build the public's confidence in a working justice system.
The commitment of the United States to working with governments and the international community to raise awareness and end impunity is steadfast. As more people learn of sexual and gender-based violence cases going to court and being adjudicated fairly, their trust in the justice system increases and the hope grows that other survivors will follow a similar roadmap leading to justice.
While strengthening justice institutions and increasing the capacity of police, prosecutors, lawyers, and judges are critical, action outside the courtroom is also important. Psychological and social service providers should be trained and empowered to help survivors heal and reintegrate. Governments at the local, regional, and national levels also have a role to play by encouraging and supporting these programs, protecting the innocent, and taking steps to ensure that judicial systems are effective.
Sexual and gender-based violence is not a new phenomenon. But a global effort to address the problem, better educate communities, and build and strengthen systems to respond to violence when it happens -- both in healing the victims and punishing the perpetrators -- will go a long way to stopping it.
*Marie's name has been changed to protect her identity.
Popular in the Community